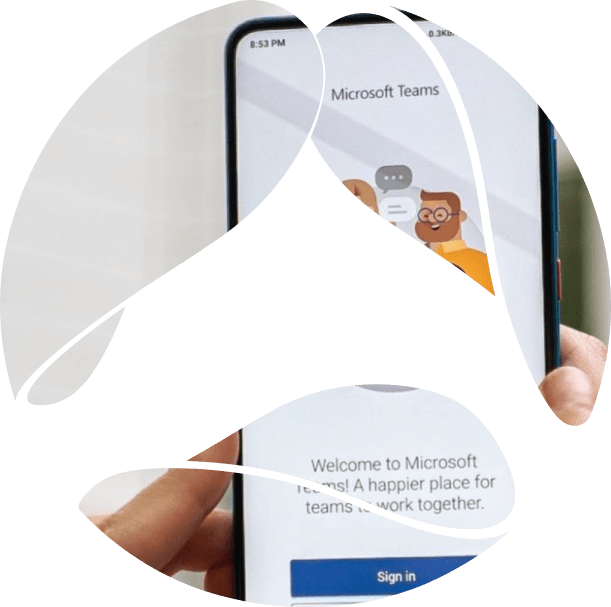 Microsoft 365:
Where teams
synchronize
Dive into the details of Microsoft 365 and learn about its advantages for your business
An increasing number of businesses struggle to keep up with digitalization requirements that are being catalyzed by the post-pandemic "new normal". Teams around the globe are finding it hard to communicate while working remotely, which results in disrupted processes.
Among the countless options and solutions, Microsoft 365 has emerged as the most complete and customizable platform for establishing and tuning work processes in just the way an organization or a particular team needs. With more than 50 million corporate accounts, it benefits businesses with the right cloud-based solution enabling swift data analysis and workflow automation.
Microsoft 365 is a solution to copious business problems. Its wide set of tools offers users the possibility to create solutions that meet their businesses' needs, with little or no need to write code. While we'll talk about this opportunity later, let's delve into what the all-new Microsoft 365 consists of in terms of the solutions available.
Microsoft Power Apps

. This tool in the

Microsoft 365

suite empowers your business to build connections within various apps. You can use your app or the

Microsoft 365

apps, such as Office 365, OneDrive, SharePoint, SQL Server, and Oracle databases, to set up a platform that will accurately integrate all of your business operations.

Microsoft Teams

.

Communication is key for efficient cooperation. Microsoft Teams is a solution that provides teams with advanced interaction opportunities, just like some of the world's most recognized teamwork spaces, such as Slack. Workspace chats, videoconferencing, application integrations, and file storage are available to subscribers.

Microsoft Viva

. Another part of Microsoft 365 communication and engagement solutions, Microsoft Viva is an employee experience platform that combines knowledge, communications, resources, learning, and workflow insights all in one place. Viva can become a company's culture stronghold that fosters unity and a sense of belonging among team members.

Microsoft Power BI

. It is an interactive data visualization tool that helps teams focus on business intelligence. As a set of software services, apps, and connectors, Power BI is designed to turn your unrelated sources of data into coherent and visually immersive insights.

Microsoft Power Automate

. Microsoft Power Automate allows your business to integrate email and IM alerts, synchronize files, and ensure smooth file transitions within various services. You can use the available templates and experiment with the platform's capacities to find what best suits your business processes.

Microsoft Sway

. If storytelling is key to your business, Microsoft Sway is an excellent platform for producing professional and visually appealing reports and presentations. This tool is designed to provide an interactive web-based canvas where employees

What is Microsoft 365

can share and express ideas.

Microsoft 365 Apps

. As an evolving version of Office 365,

Microsoft 365

encompasses Word, PowerPoint, Excel, Outlook, and Teams. These applications have new intelligent capacities and are available as a subscription. In addition, you can use it on multiple devices, including PCs, Macs, tablets, and mobiles.

Whiteboard

. As a digital canvas, Whiteboard provides a shared space for collaboration. Here, your teams can track their progress and express ideas easily. It combines cutting-edge visualization instruments and improves team collaboration. 

Microsoft Stream

. This tool serves as an enterprise video service where users can upload, share, and view videos. It also provides a high level of security and makes it possible for the organization to share recordings with presentations, meetings, or workshops.

Microsoft Planner

. Microsoft Planner will help your team create new plans, assign tasks, share files, and discuss changes in the workflow.

Microsoft Lists

. Lists is a simple-to-use app that allows tracking and organizing information for specific purposes. You can handle multiple categories of information with Microsoft Lists, including issues, assets, routines, contacts, or inventory.

Microsoft Graph API

. You can use this tool to build new apps and connect them with a variety of resources and relationships via one integral endpoint. You can create dashboards, workflows, and apps that collect and analyze data for your company.

Microsoft Forms

. Want to create quizzes, surveys, questionnaires, and registrations to gather valuable information? Use Microsoft Forms to connect with your clients easily.

To Do

. As a task management application, To Do makes it possible for users to organize their time and track tasks from any device. Your company can synchronize various types of information across Outlook, Teams, or Planner.

Microsoft 365 Groups

. Groups creates a secure space where sharing and discoverability are a top priority. This tool allows colleagues to share information and cooperate on projects.
There is quite an array of products provided in today's Microsoft 365. All of them are designed to boost productivity, streamline teamwork, and smooth operations within companies. Yet, it seems like many companies missed that very moment when the conventional Office 365 became Microsoft 365.
From Microsoft Office to Microsoft 365
What are the major differences between Office 365 and its new counterpart? First, Microsoft 365 provides access to a variety of online services, from cloud file storage and communication tools to traditional desktop applications. Office 365 does not suggest that you will receive any upgrade options, while a subscription to Microsoft 365 covers unlimited access to recent security updates, new features, and technical support and with no need to pay extra. Secondly, Microsoft 365 has an alternative payment system that is similar to a subscription plan rather than a one-time purchase. You can cancel the subscription whenever it ceases to fit your needs.
---
Avenga migrated our client's legacy work space to Microsoft 365, thus fueling business productivity and enhancing customer experience. [How?].
---
The difference also lies in the flexibility presented to clients. In this regard, a company can select different subscription plans that suit specific business goals. The platform developed three options for enterprises: Microsoft 365 E3, Microsoft 365 E5, and Microsoft 365 F3. They differ on the scale of available tools, with Microsoft 365 E5 providing the best-in-class productivity apps and advanced security, compliance, voice and analytical capabilities. With their help, you can secure your enterprise and stay cost-effective. Let's discuss some of the Microsoft 365 online services available for business subscription plans in order to grasp how they can suit day-to-day operations in a company.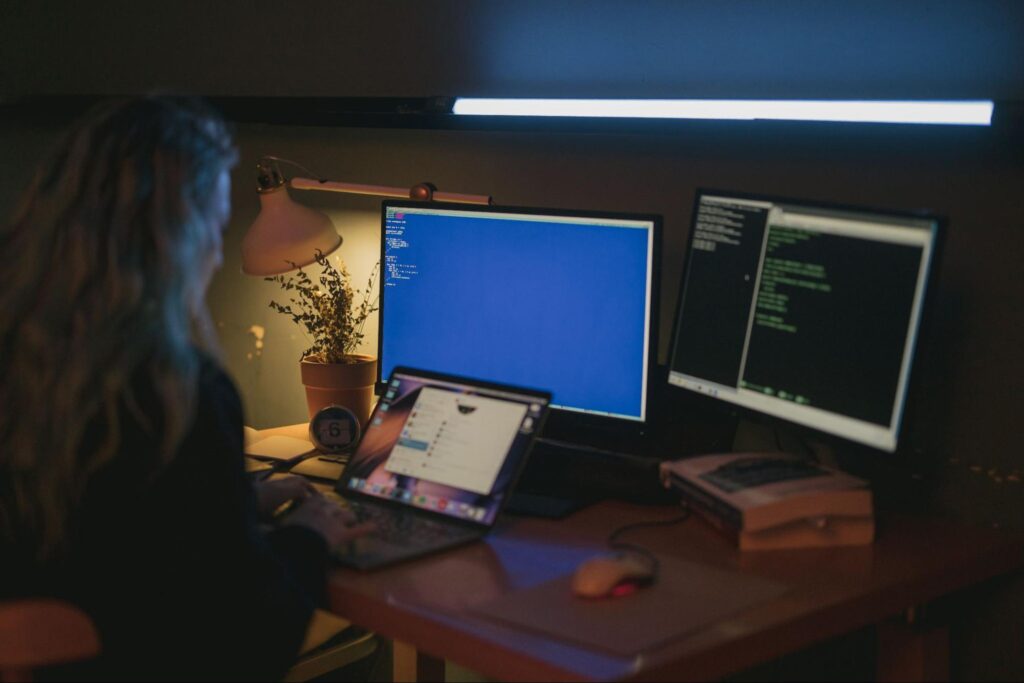 Microsoft 365 online services for businesses
The scope of online services provided by Microsoft 365 relies on your preferred plan. Let's take a closer look at the most popular ones with businesses, due to their extended and on-point functionality.
Exchange Online

is a business-class email platform that saves storage capacity from 50 GB to 100 GB in the subscribers' mailboxes. It also provides high-level security in terms of data loss prevention and protection from malware. Interested in finding out more about the issues of corporate communications security? Learn more on

8 Ways to Protect Your Email From Spoofing and Forgery

.

OneDrive

is a cloud storage with the capacity of saving up to 1 TB of data. You can share this space internally and create guest links for external users. You can also opt for a Business Premium subscription, which opens up access to desktop versions of

Office 365

applications

for PC and Mac, along with advanced security tools and additional configurations for device management.

Microsoft Teams

is a video and audio conferencing platform that allows you to host events with up to 300 participants. You can also use it as a tool for creating team sites and for sharing information via SharePoint. The business package also includes features such as reporting, registration pages, and email confirmation. The number of daily Microsoft Teams users reached nearly

150 million

in 2021.

SharePoint

refers to a collaborative document management platform. It makes it possible for the company to securely store information and tune cooperation within different teams and departments. Over

200 million

subscribers relied on its services in 2021, with

86%

of the users choosing its cloud-based version.
With these cloud services, businesses can effectively integrate low code/no code development for specific small-scale projects.
Microsoft Power Platform for low code/no code development
Over the last few years, the low code/no code development market has grown extensively. This dynamic is being spurred on by companies' increasing need to create budget-friendly applications. Low code/no code development is the right choice in this case. Below is a table showing the revenue low-code development technologies that were brought in 2019-2021.
| | | | |
| --- | --- | --- | --- |
| | 2019 | 2020 | 2021 |
| Low-Code Application Platforms (LCAP) | 3,473.5 | 4,448.2 | 5,751.6 |
| Intelligent Business Process Management Suites | 2,509.7 | 2,694.9 | 2,891.6 |
| Multiexperience Development Platforms (MDXP) | 1,583.5 | 1,931.0 | 2,326.9 |
| Robotic Process Automation (RPA) | 1,184.5 | 1,686.0 | 2,187.4 |
| Citizen Automation and Development Platform (CADP) | 341.8 | 438.7 | 579.5 |
| Other Low-Code Development (LCD) Technologies* | 59.6 | 73.4 | 87.3 |
| Overall | 9,152.6 | 11,272.2 | 13,824.2 |
Figure 1. Low-Code Development Technologies Revenue (Millions of U.S. Dollars)
Data processing, data analysis, and their integration into the organization's decision-making, are crucial for stable and continuous business growth. According to Gartner, low code development applications will constitute more than 65% of all development activities by 2024. What's more, the low code development market is predicted to expand dynamically in the following years, reaching $187 billion in revenue by 2030. In 2021, low-code application platforms generated up to 30% more revenue than in 2020, bringing $5.8 billion to the stakeholders. As hands-on applications become increasingly necessary in the market, non-programmers can benefit from the multiple advantages of Power Platform – Microsoft's playground for low code development.
The expansion of non-traditional approaches to coding is predicted to grow in the foreseeable future. The most popular purposes for using low code/no code applications, including data modeling and productivity apps, are shown in the graph below.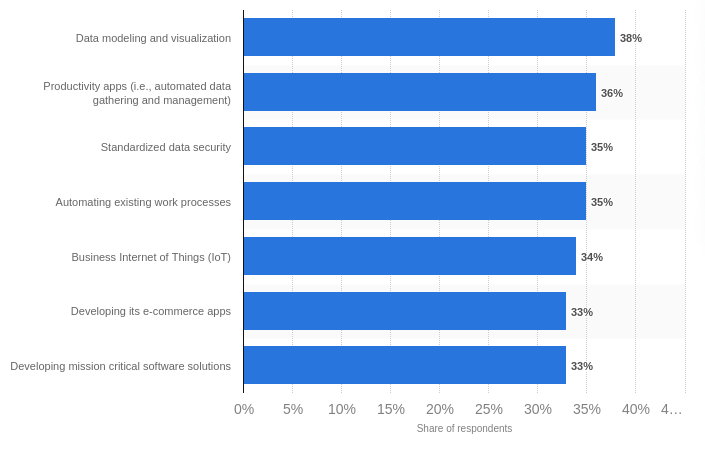 Figure 2. Usage of Low-Code for Applications Worldwide in 2021
What technology stands behind low code/no code development? In contrast to programming languages, low code/no code apps heavily rely on drag-and-drop interfaces. They make it possible for citizen developers (or non-professional developers) to organize data inquiries and workflow processes that are readily available to users. This approach also allows a business to connect newly crafted low code/no code programs with broader business processes. For example, marketing professionals can create applications that automatically access customer data and launch targeted communication with Microsoft 365 services, including SharePoint, Office 365 and SQL Server. They serve as data sources for low code/no code applications and can be easily connected via web interfaces or mobile applications.
Low code applications provide an extensive range of options regarding automated data gathering and management, standardized data security, or work processes automation. Interestingly, 38% of all applications are used in data modeling and visualization (see Fig. 2). Sometimes though, no code development doesn't suit the needs of your business or enterprise. Although it may seem like a beneficial solution for small-scale projects, traditional coding is often a must for more nuanced and time-consuming challenges. Moreover, accuracy and realistic expectations towards no code development are central to your data project's success.
Fusion developer teams can also assist your company in setting up applications for goals that require a combination of traditional coding and low code/no code technologies. Collaboration between code-first developers, citizen developers, and IT developers can help your business gain tech solutions that suit your business objectives in the shortest terms. This approach can be optimal for strengthening your company's competitive edge. You can also opt for IT consulting services to ensure the smooth implementation of technologies. Discover more on Why IT Consulting Services are at the Heart of Business Resilience.
---
Streamline your inner processes to increase productivity and creativity, and gain better results. Avenga's Microsoft 365 experts are at your service.
---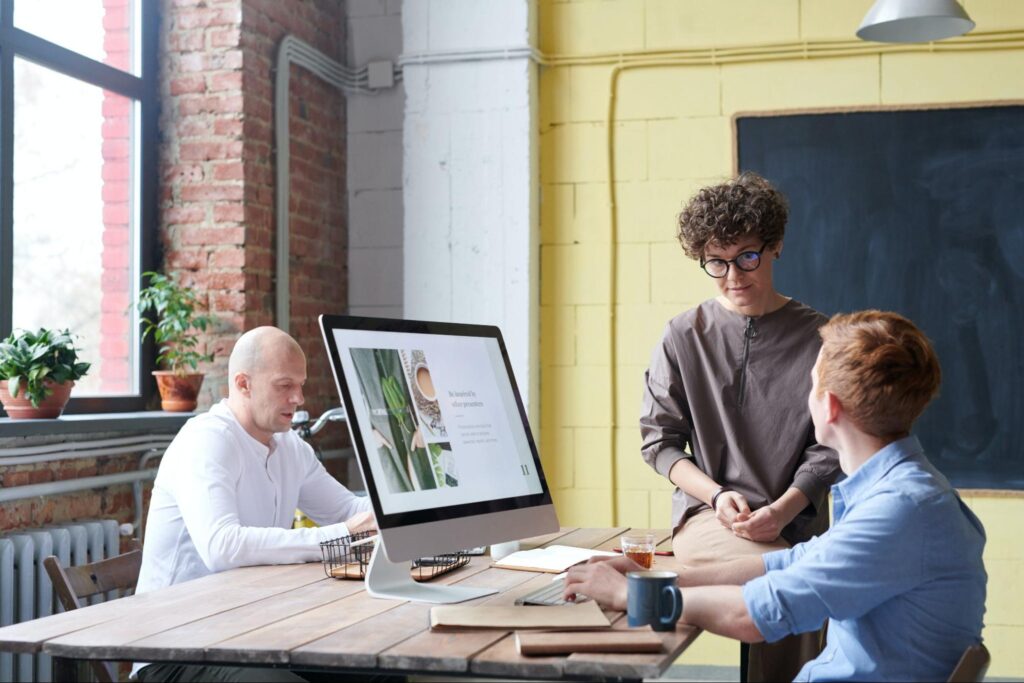 Advantages of Microsoft 365
As stiff market competition requires enhanced business efficiency, Microsoft 365 provides the right set of tools. So, what are the primary advantages of integrating Microsoft 365 into your company's functioning?
Boost efficiency.

Microsoft 365

provides an interconnected productivity suite that allows employees to monitor changes in workflows. If your organization relies on mobile working, you can also utilize

Microsoft 365

to improve access to all your apps and files. Besides, the full-featured experience can sidestep unnecessary processes and set a high benchmark for seamless communication. Over

145 million

daily active users of Microsoft Teams in 2021 benefit from its improved communication standards.

Stay flexible. Recent statistics show that

77%

of remote workers claim higher productivity when working from home. This shift requires enhanced flexibility.

Microsoft 365

offers solutions that have been well-known in the market for years, allowing employees to swiftly learn new features and adjust them to the specific challenges an organization is encountering at the time. In this way,

Microsoft 365

makes it possible for your company to rely on easy-to-use features and succeed at challenging tasks in unstable times.

Bring sensitivity to change. As industries change, businesses need to stay responsive to newly emerging trends. Low code/no code development lends a helping hand in this situation so your business can deliver and maintain full-stack applications and stay responsive to your customer's needs. According to recent reports,

70%

of new applications developed by organizations will use low-code or no-code technologies by 2025. With

Microsoft 365

, your company can keep up with the hectic pace of technological advancements and easily reach out to clients.

Be client-oriented.

According to Forrester,

76% of executives

say improving the customer experience is key to their business.

Microsoft 365

allows your company to use prebuilt templates and chatbots to catch up with specific clients' needs.

Providing frictionless experience depends on how the business keeps up with the agitated technological progress and how it manages

customer relationship

s.

Safeguard security. Not surprisingly,

88% of consumers

say their willingness to share personal information heavily relies on how much they trust a company. With the help of

Microsoft 365

, you can securely store valuable data while not exposing yourself to a data breach, as data protection is a key priority to its services. With

Microsoft 365

, you can take advantage of transparent and open internal communication. Your business can benefit from easily accessible solutions and secure data sources for low code/no code environments.

Speed up digital automation.

Microsoft 365

can serve an alternative to traditional coding. This cloud-based technology simplifies the nuances of traditional coding with programming languages. It opens up new opportunities for setting up applications by citizen developers. Low code can also greatly boost the process of

cloud adoption

for a smoother control over all workflows. Curious to discover more about the effective use of cloud infrastructure? Learn more in the

7-Step Guide to Creating Your Cloud Strategy

.

Cut down on expenses.

Microsoft 365

provides products and services widely known among specialists in various fields. That's why citizen developers are likely to swiftly grasp low code/no code development algorithms. You can invest in easy-to-use applications that do not require extensive expertise in programming, thus reducing costs.

Enhance teamwork and communication. According to

a McKinsey report

, well-connected teams see a productivity increase of 20-25%.

Microsoft 365

applications, particularly Microsoft Teams, serve as an environment for easy and comprehensive collaboration. It also helps avoid cumbersome procedures and brings about faster business operations. Specialists can secure effective internal interactions with Microsoft Teams.
Microsoft 365 can simplify business operations while making the organization more efficient and agile.
---
Avenga empowered a company's digital transformation with the help of Microsoft SharePoint server [How?].
---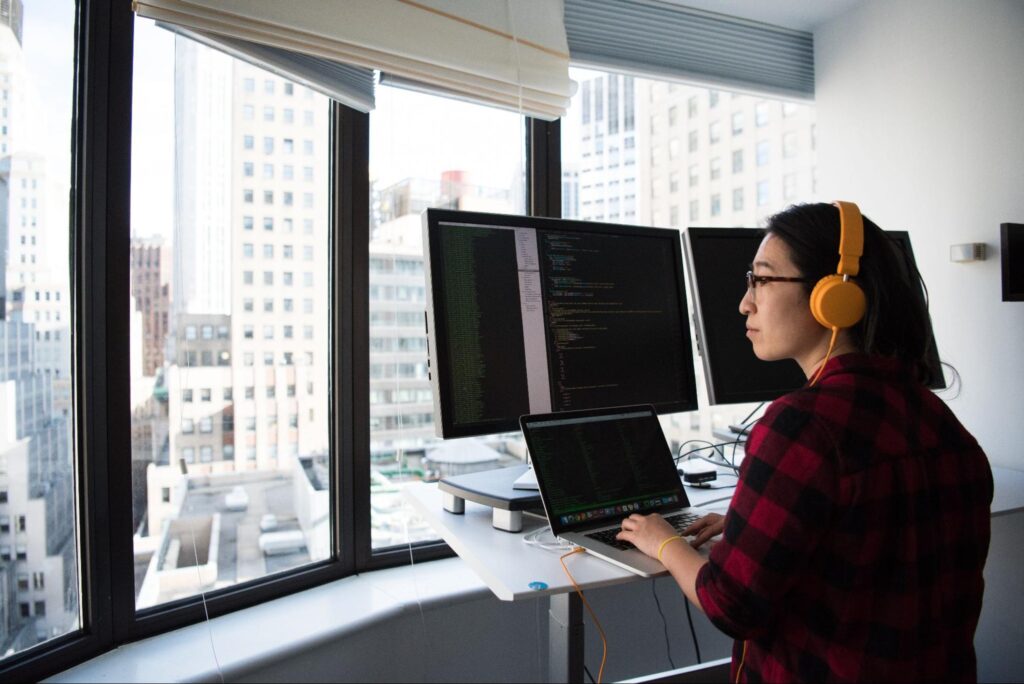 Reimagining your business with Microsoft 365
In recent years, Microsoft 365 has evolved into a cloud-based solution that promotes company organic business growth, with 731 000 companies in the United States alone using this office suite software. Given the rapid demand for low code/no code development, it also allows organizations to develop low code/no code applications within time-constrained circumstances. It also offers integral building blocks that empower cooperation within teams and smooths out workflows.
Experiment with the benefits of Microsoft 365 and use this tailor-made solution to build your business advantage and safeguard your data.
Interested in discovering more about the potential of Microsoft 365? Our Microsoft 365 experts are there for you!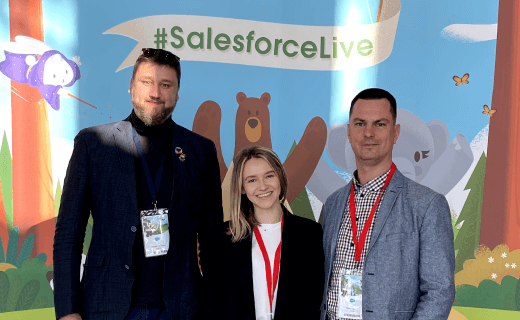 On October 13th, Avenga attended Salesforce Live Warsaw – one of the leading Salesforce events in Europe that provides a platform for customers, prospects, and partners to discover the latest Salesforce products and se…
Read more