Costs, time and innovation: how the pharma industry can profit from digitalization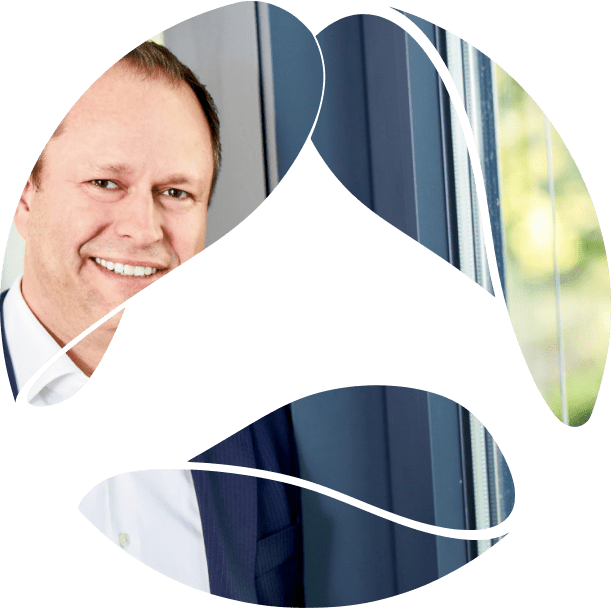 Costs, time and
innovation: how
the pharma
industry can
profit from
digitalization
The digitalization of the pharma industry is an important building block of modern medicine. However, digital transformation is a comprehensive process and will change many aspects of the health sector. Find out how your company can profit from digitalization in the health sector in our topic selection.
The USA is one of the most important locations for the pharma industry worldwide. With over 300,000 people employed in the sector, the pharmaceutical industry made a turnover of 425 billion U.S. dollars in 2020 alone. The economic sector is characterized by considerable investments, time-intensive research and high innovation pressure. This inevitably leads to the question of how digitalization can help optimize potential.
Santiago Advisors has successfully supported many leading healthcare firms in realizing their digital initiatives. For example, helping to create a global digital innovation network, setting up a digital commercialization organization or initiating a roadmap for the digital transformation of research and development.
Dr. Alexander Tarlatt is co-founder and managing director of the top management consulting firm. In an interview with Avenga magazine, he talks with us about what chances digitalization holds for pharma companies, what matters most when implementing a successful data strategy, and how to quickly turn good ideas into visible success.
Avenga Magazine: Dr. Tarlatt, this March the business magazine brand eins named Santiago Advisors one of the best management consultancy firms in Germany for the third time in a row – congratulations! What exactly does your company do?

Alexander Tarlatt: We are a management consultancy specializing in strategy, structure and organization with a long and successful project history with corporate groups as well as larger medium-sized companies. Together with our customers, we develop holistic, innovative and sustainable concepts to support in the realization of growth potential. We work across several branches and are established partners of the life science, high tech and chemistry industries.
Avenga Magazine: What sets the pharmaceutical industry apart? What aspects characterize the branch? What are its biggest challenges and where do they stem from?
Alexander Tarlatt: Most pharmaceutical companies are constantly on the lookout for new, innovative compounds to provide them with a competitive edge. To do this, they invest large sums of money in research and development. There are two reasons for this: On the one hand, the medication pipeline of today is the profit of tomorrow and on the other, the development cycles for medications are often very long – ten years or more as a rule.
Therein lies the next big challenge for pharma companies: It is not enough simply to be innovative, new offers must also be quickly positioned on the market. Speed is necessary for lasting success, otherwise the competition will overtake you and your efforts will not pay off.
Last but not least, the pharmaceutical industry is exposed to high cost pressure; products have to be offered at competitive prices. If a product is too expensive, it doesn't matter how innovative it is or how quickly it was developed. This triad of price, time to market and constant progress makes the pharma industry a complex environment. You have to know the market very well and constantly keep up to date in order to find the best solutions.
Avenga Magazine: Digital twins, health apps, artificial intelligence based text and image editing – many new digital concepts are being tested in the pharma industry. Which ones are particularly promising? Why is digitalization such a game changer?
Alexander Tarlatt: Data is the prevailing topic at the moment. Questions such as "How do we need to be positioned to access information derived from data across organizations and make evidence-based decisions?" are starting to gain importance.
Of course it is important to increase speed and get new medications onto the market more quickly, but the other main goal is to create more efficient processes. How can we find shortcuts and minimize effort? Often data and models present possibilities to expand upon certain topics that otherwise would only have become apparent in the course of clinical trials.
Ultimately, data can help to improve both speed and quality and to best respond to the needs of different stakeholder groups in almost every conceivable area.This begins with computational chemistry, with which you can design molecules early on in their development; it continues with complex algorithms that can help choose the ideal location for specific clinical studies based on predefined criteria; and it goes all the way to the delivery of medications, where data can help to optimize transport routes in real time.
Avenga Magazine: With all these impressive possibilities, why has data not been used earlier and more intensively?
Alexander Tarlatt: The pharma industry is heavily regulated, and most pharmaceutical companies have been established for many years. This makes things more complex. Companies are not starting from scratch and have to work out how to achieve innovations within existing structures. However, once they get the ball rolling, it's not just a flash in the pan, there's real power behind it.
Avenga Magazine: In order for this power to move in the right direction, pharma companies require sophisticated data strategies. What do they have to take into consideration during its development? Where are the challenges, and what improvements can you expect?
Alexander Tarlatt: A successful data strategy is always developed from a value perspective. The opening questions are always: Where can data represent value to me and in what area do I want to invest it? Where is the biggest need, the biggest potential? The answers to these questions can be entirely different from company to company, the spectrum ranges from analytics and automation to collaboration.
Once I have established my goal, I start thinking about how to achieve it. I automatically work down from a general idea to specifics. For example, if the question is "How can we communicate more efficiently?" I ask myself, what does that mean exactly? Does "efficient communication" mean the same across every area of the business? How and where do I want to begin? What benefits arise when I digitize a certain process? What happens when I begin with another process instead? This way we arrive at a use case based roadmap.
Avenga Magazine: How do companies find a suitable use case? Are there typical "low hanging fruits" and quick wins?
Alexander Tarlatt: There is no typical use case, the options are simply too varied. The starting conditions are often also very different. Some companies invest in apps that provide customers with benefits alongside a medication and thus uphold their loyalty. Others focus on what they can optimize inside the company, and some opt to spread their digital transformation process as widely as possible by attempting both strategies. There is no one way to succeed, at least in the choice of use cases.
Implementation is a different story. An iterative strategy has proven to be the industry standard. That means: Projects are piloted and begin with a "minimum viable product", based on a narrow range of function whilst still providing immediate benefits. Further features can be implemented later in response to early and continued feedback from customers. This ensures that solutions can be implemented quickly and that they optimally address the needs of future users.
Avenga Magazine: A well known problem in digital innovation is the fact that proofs of concept and MVPs are often difficult to scale up. Why is that?
Alexander Tarlatt: Scaling challenges are often not technical in nature, but occur when the new, agile working environment clashes with the traditional one. MVPs and proofs of concept (PoC) are often designed by small, specialized teams who work together seamlessly in protected conditions. Friction occurs when these teams want to implement their quick solutions in established corporate structures, as there are then further requirements, often justified in the health sector, that have to be taken into consideration.
Cultural problems often arise due to the fact that digital innovations require skills very different to those typically available in health sector companies. The working methods in many research, development and commercialization processes generally lack iterative or agile elements, which is actually a good thing. In the pharma industry it is particularly important to be compliant and to abide by the quality and regulatory requirements specified by national drug regulatory authorities.
If one were to apply the practices of the core business to digital innovations, it would contradict the factors relevant to success in this area. If this is not accounted for, any initial speed advantage is soon lost.
Avenga Magazine: What helps in such situations?
Alexander Tarlatt: If that situation arises, it's almost always already too late. It is no coincidence that 80% of digitization projects in Germany are cut short in the pilot phase or do not lead to success. It is crucial that the responsible parties are made aware as soon as possible that they need to find a way to carry out their digitalization plans in the framework of a "traditional" organization. That way they can lead the gradual transformation to an agile and data-driven or digitalised work environment. It helps to approach this process with a certain degree of openness and not slavishly abide by a single method – flexibility is key.
It is equally important to introduce digital projects to the organization and to other important stakeholders as quickly as possible. This increases the general acceptance of projects and facilitates access to critical resources. Depending on the initial situation, a digital excellence sprint at the start of the project may be useful. The sprint allows everyone participating in or affected by the project to express their demands, wishes and requirements at the beginning. This helps to identify potential conflicts early on and thus take measures to avoid them.
Avenga Magazine: Which Avenga technologies can help pharma companies in their digital transformation?
Alexander Tarlatt: Due to its history, the pharma industry has access to a variety of complex systems and disparate data sources. The API gateway Couper can offer a valuable service by providing the interfaces to be able to import data from different systems. It can thus create the conditions necessary for data to be displayed in a consolidated form in an easy to read dashboard, for example.
Couper fulfilled exactly this function in a joint project between Santiago and Avenga for one of the largest pharmaceutical companies in Germany. The project included a lot of different systems, many of which contained the same data fields. However, the values often differed from system to system because they were not linked. The consequence of this was that if something was updated in system A, the same had to be done manually in system B. This was extremely time-consuming and the process was prone to error.
If the values contradicted each other, they had to be checked every time to find out which figures were up to date and which of the applications had the right data. In addition to this, the systems were built for experts, every user was confronted with the complexity of an expert level system – regardless of whether he or she needed all the functionalities or not. This was complicated, inconvenient and not user-friendly.
With Couper, we were able to build a click dummy during a digital excellence sprint in a short space of time. This provided all stakeholders with a first impression of what the finished product would look like. All participants were able to test the new solution and give their feedback directly. We no longer needed to engage in lengthy theoretical discussions with the customer, but could present a workable solution that formed the basis of all further elaborations straight away. That made things a lot easier.
Avenga Magazine: Where do you see the pharma industry in five years? What do companies have to do in order to be successful and how can Santiago Advisors and Avenga help them?
Alexander Tarlatt: Nobody can say for certain what the pharma industry will look like in five years. The area is too dynamic. However, one thing we can be sure of is that the industry will become more digital, and more data-driven. The calculation is simple: When data is available, you can measure. Where you can measure, you can optimize. And where you are sufficiently optimized, you have a competitive advantage when it comes to time, costs and the price you can offer.
In order to remain competitive in the coming years, pharmaceutical companies will need to establish effective solutions tailored to their individual challenges more and more quickly. In doing so, they can benefit from the complementary competences of our firms.
At Santiago Advisors, we see it as our primary task to develop concepts and answer fundamental questions like: How can an organization successfully shape its transformation process? What skills and resources does it need to do so? What does a solution need to do to deliver a competitive advantage in a particular area and how should it be designed in terms of content? Avenga, on the other hand, has impressive technical implementation power. Together we can offer not only strategic advice but also practical solutions – from a single source, as a well-coordinated team and without friction losses. This is how good ideas quickly become visible success!
Avenga Magazine: Mr Tarlatt, thank you for the interview!
Discover widely spread applications of data science in healthcare and learn about the common advantages it brings to the industry.
Read more
Start a conversation
We'd like to hear from you. Use the contact form below and we'll get back to you shortly.