Digital transformation with Artificial Intelligence: 10 examples and a comprehensive guide
Digital
transformation
with Artificial
Intelligence:
10 examples
and a guide
Empowering digital transformation with AI: insights, examples, and strategies for success.
Businesses are innovating to stay relevant. A case in point in digital technology, according to pwc – about 2/3 of enterprises in 2021 already have a detailed digital transformation strategy. But how do they plan to reinvent their traditional models and processes? Unsurprisingly, many enhance their digital transformation with artificial intelligence (AI).
Indeed, implementing digital transformation tools like AI improved average performance and productivity by about 66%. According to Forbes, about 84% of senior executives believe they need algorithm-based technology for their business to keep growing.
Do you need AI in your digital transformation plan? All the more reason to keep reading! It is time to study some AI-powered solutions available today and see how they can help your business.
How businesses boost digital transformation initiatives with artificial intelligence and machine learning
As you know, artificial intelligence (AI) can replace or augment specific human activities. And this, along with data-based predictions and pattern detection, makes AI valuable for businesses. Organizations have to come to rely on AI tools to improve their processes and business models. So, let's start by showing how they use AI for digital transformation today.
Generative (computational) design
AI technology and computational processing can enhance product development and design. The software uses input parameters (height, usable area, weight, and materials) and applies advanced algorithms to generate thousands of design options. So, engineers and architects can evaluate and refine results instead of spending months on prototyping.
The study offered by ACM Computing Surveys indicates that compared to more traditional software approaches, generative algorithms can reduce part costs by 6-20%, part weight by 10-50%, and speed up the development time by up to 50%.
The applications for generative design are expanding through the manufacturing and construction sectors. The evidence shows how the French airplane manufacturer Airbus used this approach for a bionic partition in its A320 aircraft, which reduced the part's weight by 45%. Additionally, this improved fuel efficiency and passenger comfort and reduced the carbon footprint for each flight.
Personalized offerings
AI-powered engines can help you tailor the customer experience. Think about the vast amount of data you have about your customers: location, purchase history, search inquiries, preferences, social media activity, and other metadata. AI software can process this information to provide personalized recommendations for different categories of customers.
Based on analyzing data from the 2021 Digital Transformation Report, AI and machine learning helped travel and hospitality companies become more competitive, save time, and unlock new business opportunities.
For example, Booking.com uses machine learning to anticipate users' destinations and recommend the optimal hotels. Another hotel chain, Red Roof Inn, used AI-based analytics to monitor real-time flight cancellation information. This led the company to invest in mobile search optimization for areas near specific airports, which increased conversion rates by 375% for these locations.
Robotic process automation
Robotic process automation (RPA) allows companies to reduce and automate routine tasks and augment manual studies with rule-based algorithms. This McKinsey report predicts that RPA and AI tools will help the workforce with more than 45% of repetitive tasks.
Automation is a time-saver for financial institutions and banks that often struggle with manual workflows. But a bank in the UK used RPA to automate its tedious client onboarding process, which clogged up to 50% of the time of due diligence teams. The solution also reduced 40% of onboarding forms and reduced risks. Similarly, a Swiss-based bank automated 40% of customer requests with an RPA-based digital workforce.
Claims automation in insurance
Insurance companies can boost their digital transformation initiatives with AI, RPA, and data analytics. This report by Deloitte shows that these technologies improve claims and portfolio management and help insurers gather more value for their value chains. Moreover, 23% of positions in the sector can be automated by 2030.
One can deploy AI to reduce fraudulent claims and cut administrative costs. The company claims its systems gather a hundred times more data than traditional insurance carriers. Lemonade's CEO states that AI helped the company reduce its loss ratio from 146% to 87% in a year. About 30% of claims are handled instantly, providing customers with a seamless experience.
Supply chain optimization
AI-based demand-forecasting models, business planning, processing optimization, and predictive maintenance are instrumental for supply-chain management. Based on the 2021 McKinsey study, early adopters of AI were able to optimize their logistics (by 15%) and inventory costs (35%), as well as improve service performance (up to 65%). Even better, 63% of executives report revenue increases after adopting AI into their supply chain management.
Take the C3 AI software company, whose platform provides warehouse managers with real-time inventory data and stock recommendations. The company reports that its AI software helps companies reduce 20-50% of shipping costs and decrease inventory level and holding costs by 15-30%.
Drug discovery
The recent advancement spurred by COVID-19 led the market of AI in drug discovery to grow from $259 million in 2019 to $10.93 billion by 2031. Biotechnology and pharmatech companies actively use algorithm-based software to reduce the time and resources needed to develop drugs.
Exscientia says that its AI platforms helped reduce the traditional discovery process for a drug candidate from five years to eight months. The world's largest corporations, like IBM, Microsoft, and Google, are also heavily investing in AI solutions and drug discovery providers.
AI digital assistants and chatbots
Companies use AI-powered assistants to provide round-the-clock customer support and help support agents handle tickets. Deloitte's study determined that chatbots and conversational AI improve customer acquisition and reduce service costs by about 15-70%, allowing employees to do more meaningful work. According to Gartner, about 54% of organizations have been using chatbots for self-service in 2022 alone.
Other companies invest in more advanced digital assistants. One such technology is Google Duplex — an automated appointment booking and scheduling system that lets you interact with any business listed on Google. However, a system capable of recognizing complex sentences and fast speech must include technologies like natural language processing (NLP).
Natural language processing
NLP allows the software to understand a language's context and emotional background. You're probably familiar with its capabilities, including speech recognition, automatic translations, predictive typing, word filters, and digital assistants.
These technologies are widely used in healthcare to automatically extract, structure, and classify medical records and handwriting. This research suggests that NLP can facilitate policy assessments and decrease the time needed for clinical guideline synthesis.
On top of that, NLP can be used for sentiment analysis. For example, some software can scan and evaluate reviews about your company on social networks. Expedia Canaday used sentimental analysis to detect negative feedback about its ad campaign and ditch it before any damage was done.
Cybersecurity and fraud detection
The average cost of a data breach in 2023 has reached a record-high $4.45 million (compared to $4.24 million a year before). But here's the surprise. Organizations with advanced security AI and automation had to pay 80% fewer breach costs than companies without these technologies ($3.81 million against $6.71 million). This shows that AI-powered security is paramount if you work with personally identifiable information.
AI-powered software uses real-time analytics and historical data to detect user behavior discrepancies. So, your system can automatically block login attempts from unusual locations, suspicious transactions, or large cash withdrawals.
Because of fraud, travel, and transportation companies suffer billions of dollars in losses annually. Thankfully, AI and machine learning can help you protect your transactions. For example, HotelTonight reduced chargebacks by 50% after deploying an AI solution for fraud detection.
Employee monitoring
Many companies started buying AI-powered monitoring tools as remote and hybrid work models prevailed over on-site work. When used appropriately and according to data protection frameworks, this approach helps quantify factors for employee productivity. But there are other ways to use these tools.
Research states that organizations with over 60% of the remote workforce have higher data breach costs. Companies with an 80-100% remote workforce suffer about $5.54 million from breaches, compared to an average of $4.24 million. However, advanced AI monitoring software can help prevent malicious insider threats like corporate espionage and intellectual property theft.
Even in its current form, AI has immense digital transformation power. Above all else, it can innovate your business.
Benefits of artificial intelligence among digital transformation examples and strategies
As demonstrated above, AI has numerous use cases across industries. Now, let's see how these solutions can benefit your company.
Productivity boost
AI tools like RPA and NLP can help businesses automate complex processes, reduce human error, and free employees from redundant tasks. According to the Statista 2021 report, AI can enhance labor productivity in developed countries by 40% by 2035 (with Sweden, the US, and Japan benefiting the most).
Advanced analytics tools can allow you to evaluate employees' strengths and areas for improvement. The 2021 Enabling Change report argues that AI tools can provide recommendations to improve individual and group productivity and enhance customer satisfaction.
The same report illustrates that 76% of employees with disabilities aren't fully open about them. Luckily, advances in accessibility software (speech-to-text, predictive typing, visual recognition, and others) might help them eliminate some of these barriers so that they can focus on their job.
Cost-efficient processes
Adopting AI initiatives helped organizations reduce their expenses while simultaneously increasing revenue.
McKinsey's State of AI in 2021 survey shows that over 33% of companies have decreased costs by over 20% (28% of businesses shaved off 10-19% of their expenses, and 18% cut less than 10% of costs). Additionally, 13% of companies had a 13% profit boost (21% had a 6-10% revenue increase, and 33% improved their revenue by less than 5%).
On top of that, AI reduces digital transformation costs to wireless-first and cloud-enabled connectivity architecture. IDC predicts that 65% of organizations plan to adopt wireless-first strategies to reduce expenses and enable richer experiences. Where does AI fit in this?
Advances in AI-powered analytics will alleviate reconfiguration and upgrade to the newer wireless technology cost-efficiently. Plus, it will help remote employees access updated tools more efficiently.
Informed decision-making
Predictive analytics software enhances your business decisions' quality, creativity, and effectiveness. AI applications process large quantities of unstructured data from multiple sources and turn it into insights. This helps uncover gaps between your offerings and demand and introduce the services your clients want.
Analyzing data in real time is critical for actionable corrective actions. Take automotive IoT, where autonomous vehicles must respond to external objects and safety scenarios in milliseconds, or cybersecurity, where you need to react to intrusions immediately.
Client-centric business model
Automated self-service tools, digital assistants, and chatbots can help your customers solve their problems seamlessly, keeping them happier. According to the 2022 research by Deloitte, enterprise executives cite improved and better customer service and satisfaction as their primary reason to invest in AI.
AI-based algorithms and Big Data help companies develop detailed customer behavior profiles to understand their needs, problems, and preferences. With this data, you can tailor ad campaigns and interfaces for user segments, likely improving customer satisfaction.
Still, despite all these benefits, many companies need to be more cautious about the upfront costs of AI. That's why you need to consider what business aspects of your organization could use an AI boost.
What business aspects should you enhance with AI?
There are countless ways to use AI technologies; selecting the right one is critical for your successful digital transformation. It's no less important to make your solutions scalable. 88% of senior managers and executives believe they won't achieve their growth objectives without scaling AI—however, 76% struggle with rising algorithm-based tech across their businesses.
What AI directions should your company choose, and how to successfully implement them at ai projects and scale?
Define the processes to improve
Start by assessing your IT infrastructure, internal policies, and workflow. This should give you a good idea about the most value-driven processes in your company. The audit also helps to pinpoint bottlenecks in your chain of operations. For example, it could be an overly complex onboarding process, invoice management, or slow customer service.
Then, you must select the processes you can enhance or automate with AI. However, it would help if you didn't spread too thin across all your various business operations. Algorithm-based technologies can be pretty expensive. We recommend prioritizing the operations you could improve with minimal investments.
Optimize your workforce
Your employees need to understand how AI applies to their roles, so redefining your organization's responsibilities and ways of working is imperative. You must also train your staff with new tools and security practices.
It's important to distinguish the roles of AI practitioners and data scientists. Data officers, modelers, and machine learning engineers must uphold clear standards, rules, and processes to bring value to your business. Besides, vetted data science practitioners can apply new technologies across use cases with consistent results, improving your value from AI investments.
Establish cybersecurity and governance
Cybersecurity is detrimental to your reputation and financial well-being. You need to embed security mechanisms into your AI solutions and ensure compliance with privacy regulations laws (GDPR, PCI DSS, HIPAA, to name a few).
You also need to address the ethics problems. For example, algorithms can discriminate based on gender, race, socioeconomic factors, disabilities, or other conditions. This could lead to biases and, consequently, unreliable results. So, it would help if you had a transparent governance network to ensure the ethics code is correctly translated into the development.
Gather enough data
AI and machine learning systems need a large amount of data to provide accurate results. So, smaller businesses need to collect enough information before their deep learning platform can produce reliable insights.
You also need to understand that most data is useless for strategic decisions. Aside from that, terabytes of useless files only clutter your storage and increase the system's workload. That's why you need software and policies to filter through low-quality, duplicate data and other issues (like misspelling in user profiles).
Using AI to automate redundant tasks is effective but has a limited impact on your digital transformation journey. It would help if you had the right strategy to leverage the potential of AI systems to the fullest, and that's possible with an experienced partner on your side.
Final remarks
Businesses that want to digitalize should know what processes are worth upgrading, the digital technologies they must implement, and the organizational processes to optimize to make it all work. This requires a team of experienced specialists, access to a digital tech stack, and knowledge of management procedures.
Artificial intelligence boosts digital transformation across industries. AI can profoundly affect your business by allowing you to automate tasks, personalize offerings, improve customer satisfaction, and mitigate risks.
We have the knowledge and experience to implement AI technologies and reimagine your business processes to make your business more cost-efficient, consumer-centric, and profitable. Reach us to see how we can accelerate your digital transformation.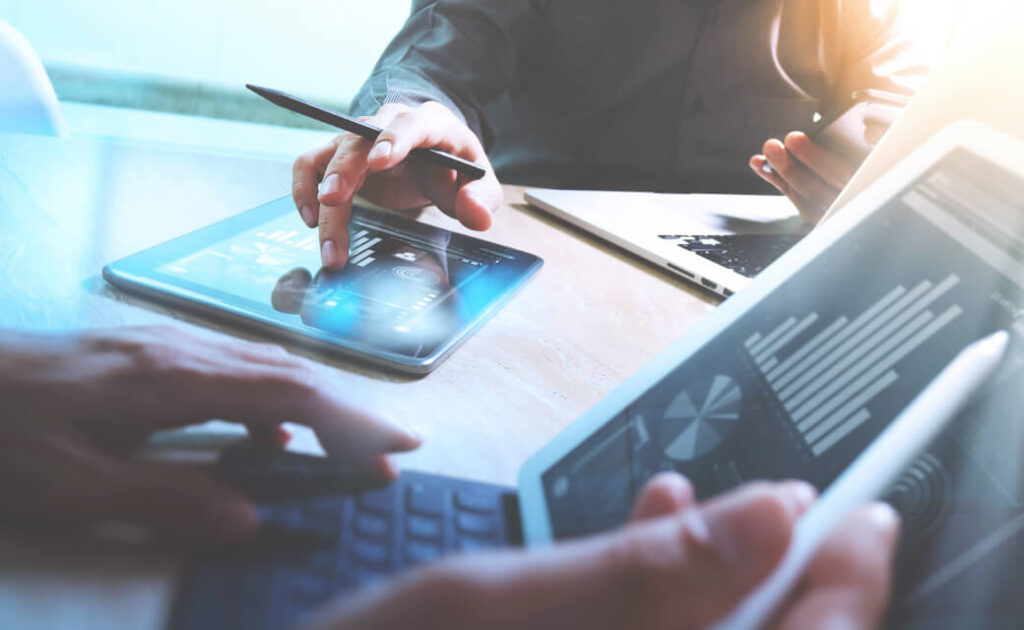 Explore how big data is revolutionizing the banking industry by enhancing customer experiences, improving operational efficiencies, and addressing challenges.
Read more
Start a conversation
We'd like to hear from you. Use the contact form below and we'll get back to you shortly.