Staffing Services with Avenga: People are Key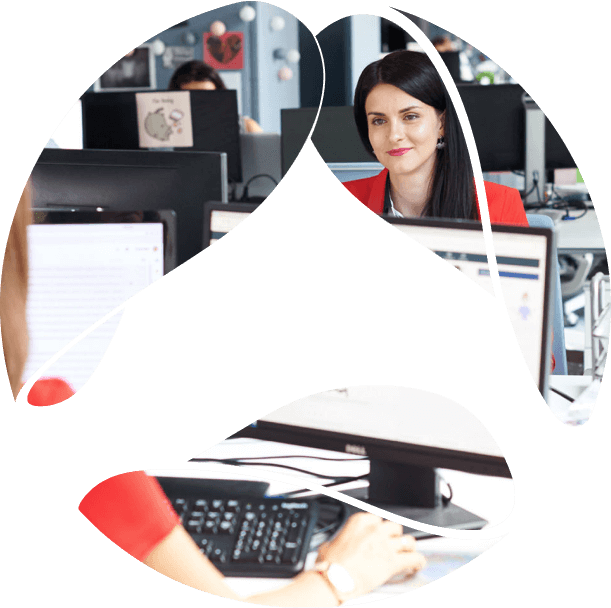 Staffing Services
with Avenga:
People are Key
Business circumstances influenced by the market development, tech proliferation and stimulated by the ongoing pandemic are constantly changing. While at home-based office setup or back-to premise environments, the companies of all sizes are struggling to close the talent gap as skills shortage is looming. This inevitably comes with its complications and flaws causing a big headache for business owners.  
According to PwC's (PricewaterhouseCoopers) latest Annual Global CEO survey, business leaders consider the 'availability of key skills' a top 10 'threat.' The reasons for this worry may vary, but the global consensus is that hiring is going to get a lot harder.
CEOs from Western Europe regard the availability of critical skills as a top-five issue to be concerned about, while their North American counterparts put it in sixth. One reason could be the aging population in both regions. There aren't enough skilled workers to keep up with economic growth and new technology.
This talent shortfall comes even as the 'Fourth Industrial Revolution' has created a demand for new technical and soft skills. Apart from talent costs increasing, this skills gap could also slow down innovation.
In particular, the impact is clear in the software industry. IT recruitment has become a far more difficult process in recent years. Here are some of the common issues recruiters face, in addition to lacking competent workers:
Companies are finding it difficult to get a candidate's attention because far too many recruiters reach out to job seekers. It's not unusual

for the best talent to have multiple offers.

Assessing skills is not an exact process. Apart from technical know-how and problem-solving abilities, recruiters also need to find ways to

test soft skills and cultural fit

.

Recruitment specialists and HR managers

face challenges when communicating with IT candidates as they sometimes lack in-depth technical knowledge to respond to the applicant's doubts or highly specific tech queries.

Job ads aren't effective anymore. With job boards having thousands or millions of users, a single job ad can result in more applications than can be processed. It's really an inefficient process in IT recruitment these days.

One answer could be 'staffing-as-a-solution' services. These are professional staffing services that offer companies flexible hiring solutions.
Flexible hiring solutions keep booming because of a general shift of how work is perceived. Skilled workers do not necessarily opt for fixed working hours to bring in value to the project and make decent earnings, and flexibility offers them just that – a greater work-life balance. There exist a couple of options. Freelancers, living the "work-for-yourself dream", whether on a full-time or side hustle basis has been a trend for quite a while already and continues to be a popular practice. Some prefer to be 'digital nomads'(a digital nomad can very well work for a company) — individuals who work online while travelling places. Others like the option of keeping their own hours and dedicating time to the work they choose, living from one gig to the next.
This 'gig economy' has matured over the past decade. A report from Harvard Business Review estimates there are 150 million 'independent contractors' ( skilled independent professionals working on project-by-project basis)  in North America and Western Europe. In Britain, the size of this flexible workforce doubled from 2016 to 2019, accounting for 4.7 million workers.
Companies now have the option of hiring talent per assignment or project. Staffing services, in turn, have made the process of flexible hiring more robust. Dealing with individual freelancers has a greater risk than working with a staffing services provider that specializes in IT and software talent. To understand what we mean, let's take a more detailed look at all the options available.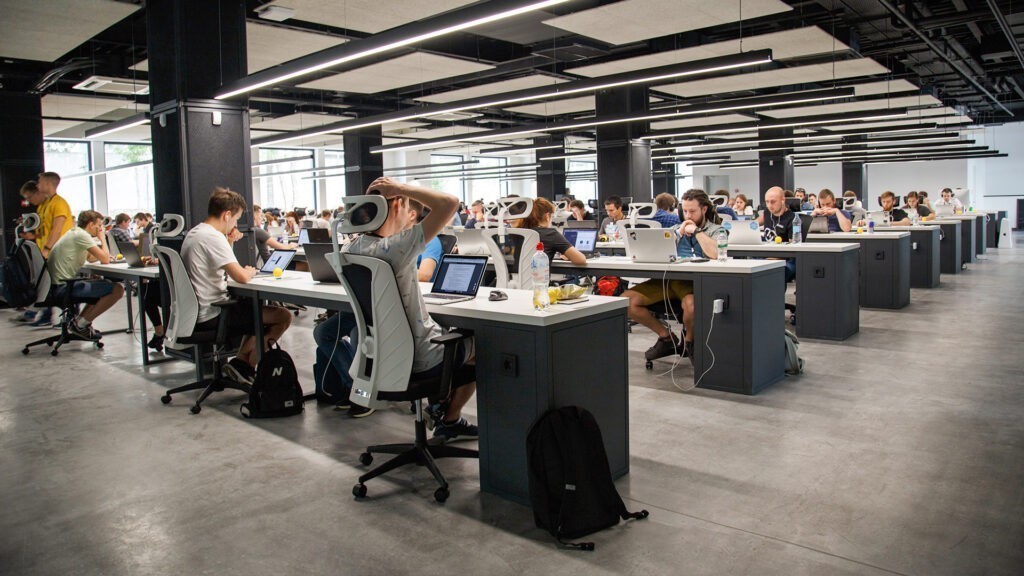 Staff augmentation and team extension
Staff augmentation is typically defined as an outsourcing strategy, flexible staffing option that looks to add specific or extra talent to augment an existing workforce or project. The objective of such a solution, especially in IT, would be to add technical or niche skills to a team; for example, expertise in a particular tech stack. The company, and not the staffing provider, manages the team and has full control over what work is done by the augmented staff.
Staff augmentation, or the team extension model, should not be confused with similar freelance options. Let's run through some of the more common ones.
Staff augmentation vs. managed services

: Managed services is a subscription model and not an on-demand model. This means you keep paying for the services because there's something that needs to be maintained or because you anticipate the need for it from time to time.

Staff augmentation vs. consulting

: Consultants do not do the actual task but provide expertise so you can do it better. They're skilled individuals who analyze your business or technical needs and suggest the best options.

Staff augmentation vs. outsourcing

: Outsourcing takes management out of the equation. You do not manage the team or the project — a vendor does. You outsource the project and are concerned only about the actual results.
Staff augmentation and team extension models are good options under certain circumstances:
If your business has a sudden but temporary need for a

skilled developer or software development engineer.

If you want to trial a project without investing in hiring an entire team.

If you need to meet deadlines without putting too much pressure on in-house talent.
Benefits of staff augmentation
It's a flexible approach. It's faster because staff augmentation services offer immediate access to talent, especially if you're looking for specific skills or need to fill temporary gaps.
For example, a startup looking for funding can build a product that's ready for the market without having to hire a large team. Or, an established firm can bridge an in-house skills gap to add more functionalities to an existing service.
If you're willing to

extend your team

integrated to a process with your full control, you'll also have access to a much larger talent pool. 

It saves cost on infrastructure. With the IT staff augmentation option, you don't need to hire every time you make a major business decision. Another benefit is that often skilled workers that are called to extend your existing team already have the tools they need for the job.
Staff augmentation mitigates hiring risks. Sometimes, it just doesn't work out with a new hire which costs you money and time, plus it is bad for team morale. Professional staffing services, on the other hand, offer the option of replacing augmented hires fast and eliminate time and expenses hustle.

Skilled workers can bring new perspectives,

as well. A collaborative approach tends to fuel greater innovation and result in creative solutions.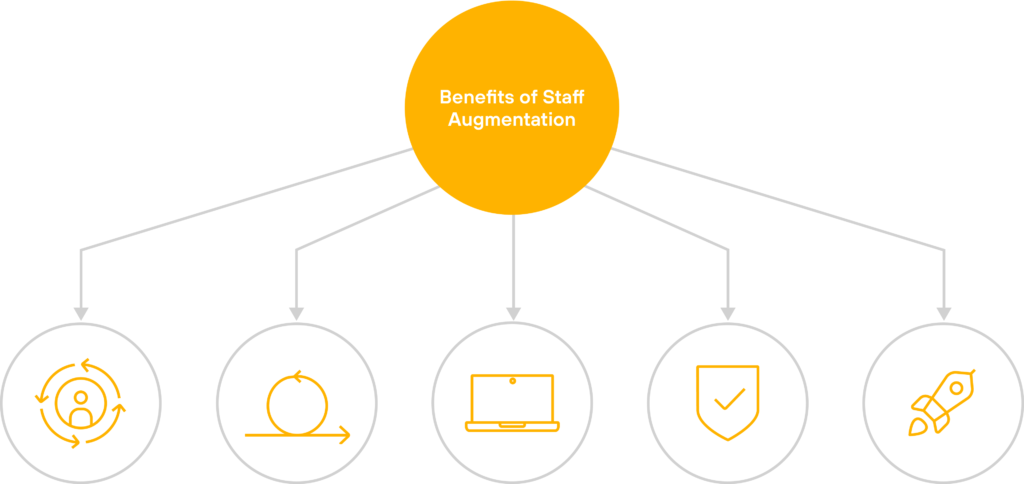 Disadvantages of staff augmentation
You might have to reorganize your workflow to include the new extension of your existing team. While management capabilities might not be a big task, the augmented team will alter the current team's setup and change is sometimes perceived as a challenge.

Apart from technical skills, staff augmentation or a team extension would need the right collaboration tools, security measures, access issues on top of integration processes so you and the staff augmentation company should be familiar with managing this particular workflow.

In-house talent has the additional benefit of being aware of your business context and historical project knowledge, existing ways of working, etc. They're likely to be more familiar with the sector and have better domain knowledge than augmented hires.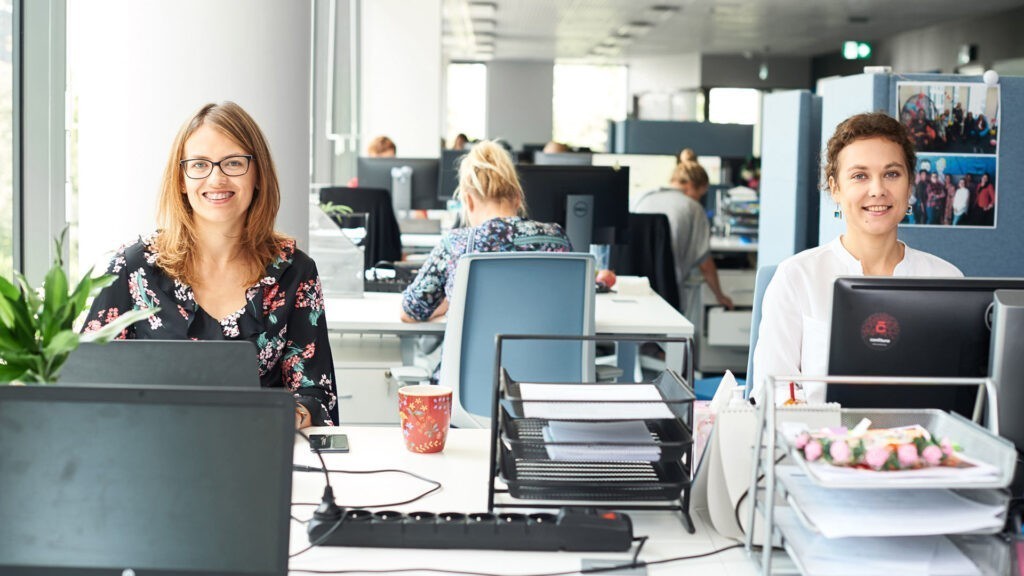 Team leasing and dedicated teams
If augmented staff focuses on individual workers and skills, team leasing and dedicated teams shift the focus to the project. Here, the staffing service provider puts together a team of experts based on your project's requirements, who will work exclusively on your assignment.
For example, a dedicated team for web development will have front-end and back-end engineers, database engineers, UX/UI developers and so on. Of course, you have the right to choose the developers or engineers you want from the vast talent pool.
Team leasing is often used when you manage a product's development. In contrast, a dedicated software development team usually has a product manager as a single point of contact to manage the project for you. However, you're still involved in the project daily.
You can change the team's composition, adding or removing members during various project stages. Also, you can scale the team as requirements shift; such as, to cope with increased customer demands or trim the crew once a product is developed and you only need a few people to test and maintain it.
Despite a third-party staffing provider, setting up your team, you're still in charge. You set the objectives and decide how the project proceeds based on business needs.
Team leasing is a good option if you want to have greater control over your software developers. For instance, if you're developing a new feature for an existing product, you might need the added control. If not, outsourcing would be the way to go, where you would only have to focus on the results and not the process.
Benefits of team leasing
A dedicated software team is a flexible approach to hiring, especially short-term leasing. Just like with IT staff augmentation, staffing services can set up a team of experts much faster than you can hire and build a team. You can also expect to get experienced talent, something that's difficult when hiring software talent.
Since the IT staffing services consultancy puts together the team from their talent pool, you're not paying for the office space or the tech a leased team or a dedicated development team would need. Some experts might work remotely, while other team members would work together from the vendor's office.

Hiring a large team for one project is not an easy business decision. Choosing a dedicated software team or team leasing can work as a trial phase before you decide to hire long-term. You can perfect the right mix of talent and skills quite painlessly and thus optimize expenses.

With a team of experts, you can stay focused on business development

. Yes, you have to manage the project, but you can put together a trusted team to meet your objectives even if you're not involved in the project every day.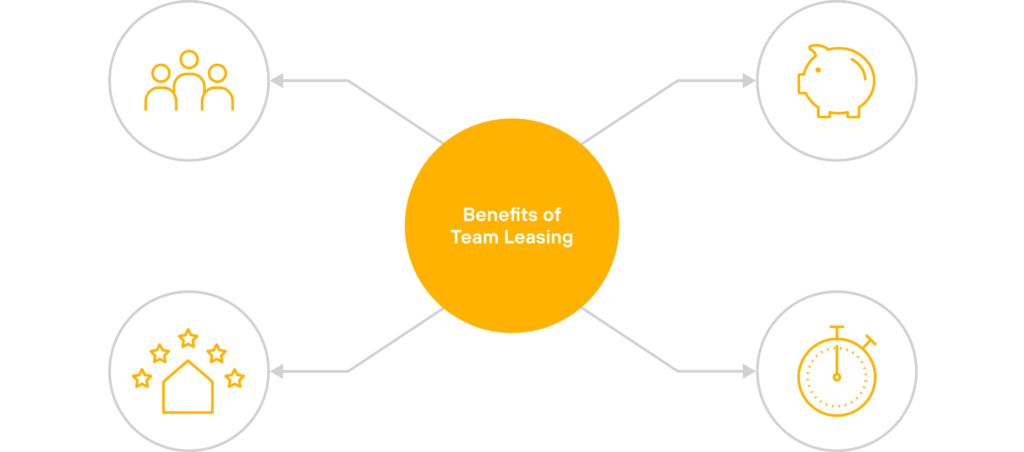 Drawbacks of team leasing
The project needs to be big enough to justify hiring a full team of experts. It might be cheaper ( though arguably) than hiring in-house, but expertise still costs quite a bit. You need to be sure the project is worth the immediate expense.

You are, again, dependent on the staffing services framework to keep the team running. You have no control over churn or pay.

Even if a project runs perfectly, there's no way to get them onto your payroll. You will miss out on the long-term benefits of the team's skills they developed while working on your project. So, as soon as you're sure you want to build a team, start moving things in-house.
Permanent employment
According to this report from Harvard Business Review, employers spend an average of $4,129 per hire in the U.S. And if it's a managerial role or skills in demand, like in the software industry, the cost is considerably higher. Yet, permanent employment is still the most common route to hiring.  With permanent employment as a staffing option, one can accomplish three primary goals: receive the promised quality of new hires, mitigate possible risks within recruitment of new staff, and decrease the cost of labor delivery.  
Things are changing, though. For example, it's no longer unusual to depend on third-party agencies to find the best permanent talent. Even the greatest in-house HR/recruitment teams struggle with hiring a qualified IT staff. This is because each software skill is an industry in itself now and the most successful recruiters are those who understand the technologies involved.
Advantages of permanent employment
A permanent employee, secured with long-term prospects and financial stability, is a

motivated and loyal team member,

building close professional relationships and ideally, understanding the company at large and their specific role within it. Permanent employment proved to be effective in terms of the employees' deeper engagement, professional skills development, etc.

It's a good long-term strategy for building a team with all key positions occupied by permanent employees. Permanent employees have a contextual understanding of your business, they can offer tailored solutions and subsequently contribute to business development.

Disadvantages of permanent employment
There exists a risk of your permanent staff to become disengaged. The employees feel stale or bored, lack the motivation, or uneager to get new knowledge, adapt to innovations, etc. which might lead to being left behind, declined productivity and consequently failed deadlines and overall quality.

Permanent employment staffing option often lacks flexibility and scaling, which are critically important in today's business environment, so it might come with a substantial price tag for companies. You might have a constant access to skills, but there's no guarantee you'll need them long term.

While the risk of bad fit is real for every staffing model, the recruitment mistake for a permanent role is much harsher and more expensive in the long run. Your bottom line suffers more as the permanent employee recruitment, induction and onboarding take usually longer. So if it doesn't work out, there's no way to turn it around fast, you will have to go through the entire process again. 
Recruiting efforts, especially for specific IT talents are always time- and resource- consuming. Limited staff market availability, timelines pressure, screening and interviewing candidates, etc  is a trying process. This is where a trusted staffing services provider can help, so that you can focus on your vital business development needs. A key proven advantage of such an offering is that by working closely with the inhouse HR departments, the esteemed staffing service providers support businesses with optimized assistance according to the particular company needs and set timelines. A professional team of seasoned industry insiders know how, why and if to fill in the position with the fit that would work best.
Business process outsourcing
Business Process Outsourcing (BPO) is defined as moving an entire organization's operations to third-party vendors and this has actually been a part of the IT industry for decades now. Of course, the ways in which business processes are outsourced have changed as technology has developed. 
Outsourcing business processes is a long-term and often permanent strategy. Companies choose this route when they know for sure an experienced company can achieve better results than an in-house team. 
This leaves the company to focus on core business development and growth. The vendors have complete control over processes while the company is concerned only with the final results. Here are the advantages of business process outsourcing.
Benefits of business process outsourcing
Companies don't waste time on work that can be done by a third-party with scalability and flexibility at core. This frees them up to focus on growing the core business.

A leaner team also means lower overhead. Just like any other outsourcing option, BPO offers a way to optimize expenses within several processes.

The business process outsourcing industry has developed over the years, so you can be confident you'll get the results you want with the right vendor. BPO companies are improving processes constantly by adopting the latest technologies, which will enhance your productivity as well.

It's also a scalable option for business process outsourcers. BPO partners often have the resources to manage a sudden increase in demand if you're willing to pay for it. A quick response to growth is needed to generate revenue.

Companies have a single-point of contact for an entire process. Clients, especially startups, can leave problem solving in outsourced processes to BPO partners.
Disadvantages of business process outsourcing
You are dependent on business process outsourcing companies for results. Since you have little to do with how the BPO functions, you cannot control the results. A BPO partner's failure can hamstring the progress you've made.

An external team may never understand fully how you wish to function. This could lead to miscommunications and delays.

You have to trust the BPO vendor to keep your intellectual property and data safe.
At Avenga, we can get the talent you need
Among the key indicators impacting the ultimate success of any IT project, there are organized approach to concept implementation, a right choice of software development tools and methodology, and a match of the IT professionals to the project requirements.
Modern digital business requires a qualified staff with relevant experience and skillset. Flexible staffing options that would conform to the project's objectives and business requirements are what every business needs, irrespective of the company size. 
Our clients from various industry verticals approach us hoping to achieve better efficiency and scalability with the teams that match their urgent needs and talents at the center. We, at Avenga, have been on the IT market developing digital products and helping our clients with technology capabilities for 20 years already, and we keep proving that success is about people. Whether you choose staff augmentation, team leasing or permanent employment contracts, our services will give you access to the industry's most skilled workers. Our promise to you is that we will stay committed to your business requirements and source your best digital fit.
Avenga can help your business stay flexible, lean and agile without having to miss out on the expertise that makes your product stand out from the competition. We locate, integrate and retain your outsourced software developers. Avenga staffing services can ensure you stay ahead by scaling your team as fast as you want.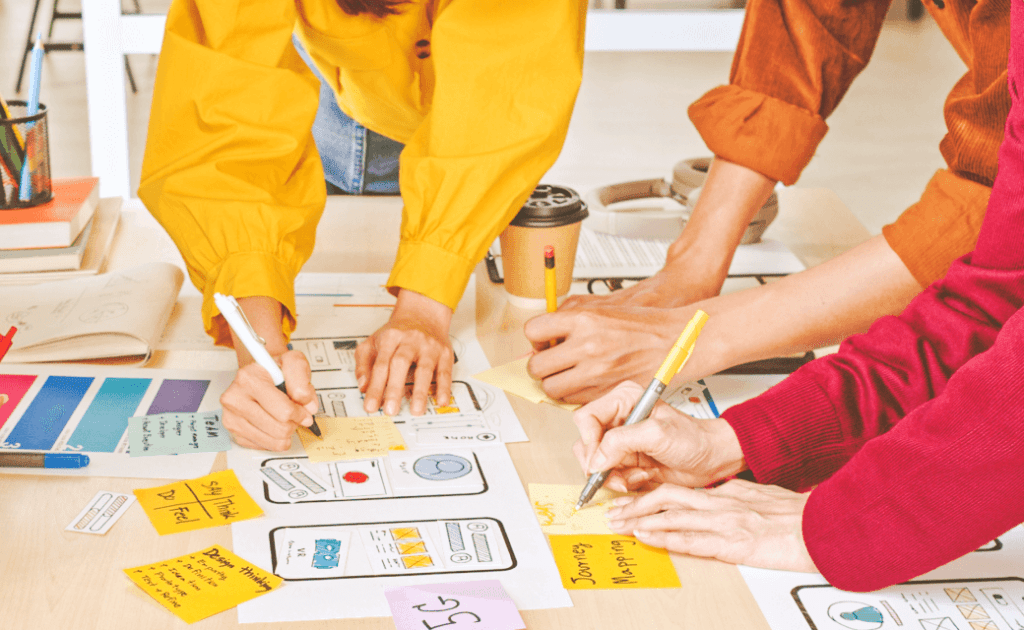 Learn some new ways for improving the user experience using the latest UI/UX trends.
Read more