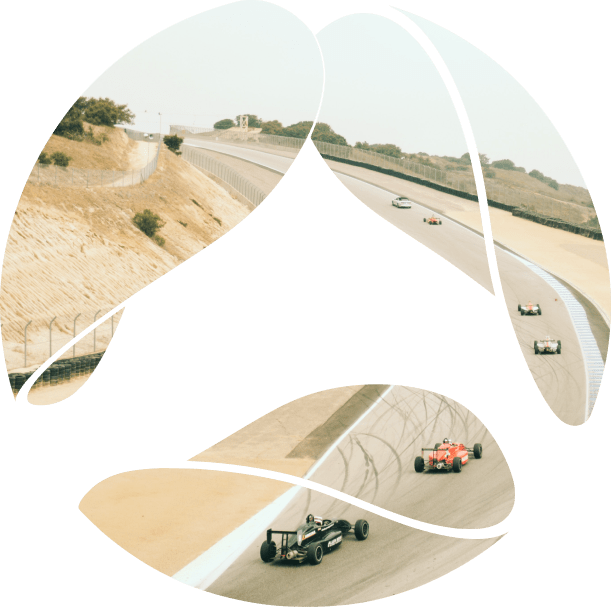 Top Cloud
Service
Providers:
A Quick
Comparison
The worldwide cloud market is dominated by four cloud service providers: Alibaba in China and Asia-Pacific, and AWS, Microsoft, and Google in other countries.
Smaller cloud services providers are primarily utilized in scenarios that require tailored support for legacy services, or have particular location requirements that the cloud giants cannot fulfill. Overall, the cloud market leaders provide an extensive range of solutions for different use cases by fulfilling the needs of high performance, availability, security and support.
Many big companies have already adopted cloud solutions and have a broad range of IaaS and PaaS workloads, including application deployments in the cloud. Yet, some smaller companies are in the process of migration to the cloud and are looking for the best cloud provider to migrate to. This article will look at the strengths and weaknesses of the top cloud infrastructure and platform leaders that are identified by Gartner.
The top 7 cloud market leaders are: AWS, Microsoft Azure, Google Cloud, Alibaba Cloud, Oracle, IBM, and Tencent Cloud. In the following Google Trends chart, you can compare the search popularity of the cloud providers in Google Search.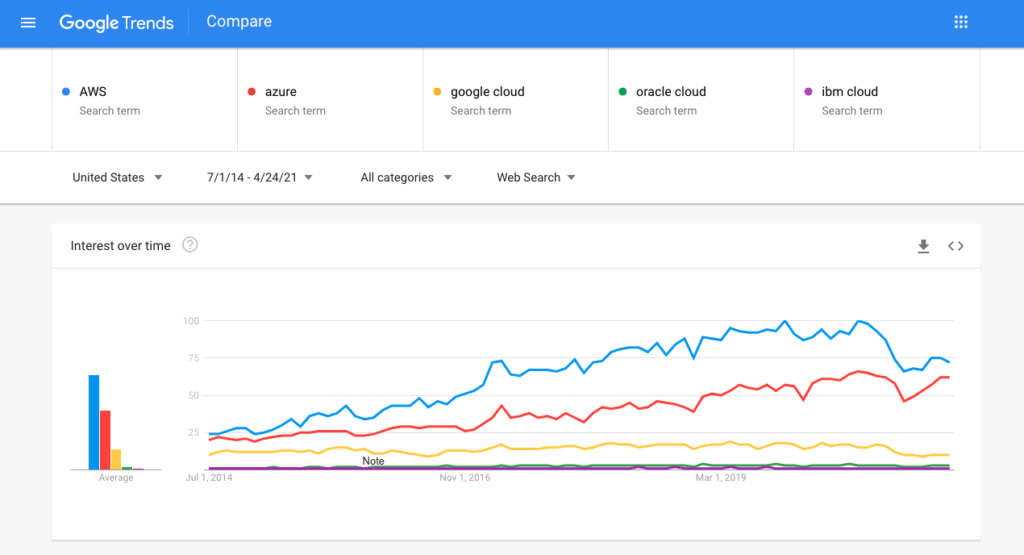 Top 7 cloud service providers
AWS
A subsidiary of Amazon and founded in 2006, AWS is a leader amongst cloud service providers. It is one of the first cloud computing platforms that became widely available.
AWS Market Share
According to Canalys, Amazon is an IaaS market leader, holding 31% of the cloud market share. The financial results for the entire 2020 year have exceeded the company's expectations. AWS reported a revenue of $45 billion in 2020, which is 30% more than the revenue announced in 2019.
AWS Cloud Offerings
AWS has over 175 cloud services for a broad range of use cases and industries. The top Amazon most used services are: Amazon EC2 (compute capacity), Amazon RDS (relational database), Amazon S3 (cloud storage), Amazon CloudFront (content delivery service) and Amazon Glacier (web storage service). EC2 allows Amazon customers to use virtual computer clusters that are available all the time. Most services are not exposed directly to end users, however, they do provide functionality via APIs for developers to use within apps.
AWS Cost
AWS fees are based on a pay-as-you-go model, depending on the hardware and software or networking options chosen. Subscribers can pay for a single virtual AWS computer or computer cluster. In subscription terms, Amazon provides security for the ordered systems.
AWS Locations
Currently, AWS serves 245 countries and spans 25 geographic regions: 7 in North America, 9 in Asia-Pacific, 6 in Europe, 1 in South America, 1 in the Middle East, and 1 in Africa. Every region is isolated and consists of several availability zones (AWS spans 80 availability zones in total). AWS CloudFront has 215 Edge locations and 225 points of presence in 90 cities across 47 countries. The AWS Wavelength and AWS Local Zones provide performance capacity for apps that require single-digit millisecond latencies for mobile devices.
AWS Strength
AWS has the largest market share in IaaS and PaaS, and is a leader in the majority of cloud products provided worldwide. Large enterprises deploy business-critical workloads to Amazon more often than to any other cloud provider. The company has a strong managed service provider network, with 67 premier consulting partners worldwide. Enterprises perceive AWS as a strategic provider of cloud infrastructure. AWS delivers end-to-end solutions, starting from servers to embedded operating systems in Edge devices, and the comprehensive technological stat in between.
AWS Weaknesses
Despite proclaimed price reductions, the price for some services, like the AWS computer service, has not become cheaper since 2014. AWS optimizes their best cloud services, and if the customer is tied to the Amazon products, it may not be easy to switch to another service provider. Another challenge is using less than 20% of purchased services, which can be laborious and lengthy to re-engineer and optimize. Although appropriately priced, the expenditures for AWS cloud services can go considerably high, if they aren't taken care of.
AWS Benefits
AWS is the most mature and enterprise-ready provider with an influential track record of customer success, starting from small and medium businesses to large enterprises. Enterprises using Amazon consistently benefit by being early adopters of new services. Amazon Web Services offer over 100 products that users can test for free. The company provides a set of database, developer and mobile tools and services that are always free. In addition, AWS offers a 1-year trial for certain products and short free trial services for ML, analytics, compute, security and compliance.
Microsoft Azure
Microsoft Azure holds a strong second place after AWS. The company provides a broad range of enterprise-focused services. Every quarter Microsoft Azure releases tens of products, services and enhancements resulting from research and development initiatives, made over multiple years. Azure offers the ability to instantly provision computing resources on-demand and is the best-in-class in the hybrid cloud among other cloud vendors.
Microsoft Azure's Market Share
Canalys reports that Microsoft Azure's market share among IaaS cloud providers is 20%. In Q2 2021, Microsoft Azure's revenue reached 50% growth when compared to the previous quarter, and resulted in $17 billion in earnings for the company. The accelerated demand for Microsoft Azure offerings has increased by 34% year over year, as stated in the company's Q2 2021 financial report. Microsoft Enterprise Mobility (service including Microsoft products as Azure Active Directory, Endpoint Configuration Manager, Microsoft Intune, Microsoft Defender, etc.) grew 29% to 163 million seats in Q2 2021.
Microsoft Azure's Cloud Offerings
Microsoft Azure has over 600 services. Azure offers VMs as a part of its IaaS offering, Active Directory to synchronise on-premise directories, and enables single sign-on. The company also provides mobile engagement with real-time analytics and tracking of user behaviors and storage services, as well as data management tools such as Azure Data Explorer, Azure SQL Database, Severless, CDN, Azure AI, Azure Blockahung Workbench, Azure IoT and other services.
Microsoft Azure's Cost
Microsoft Azure costs similarly to AWS. There are some use cases when Azure is more affordable and when AWS is more economical. Still, Google Cloud is more affordable than both AWS and Microsoft Azure. At present, there is a lack of standardization between cloud providers — no two cloud providers offer the same price in the same way.
Microsoft Azure's Locations
Azure has 54 regions and is more available than any other cloud provider. Every Azure region has a minimum of three availability zones, enabling its customers to run two isolated copies of their applications. For VMs high availability and resiliency, Microsoft Azure provides the following four options: single VM (with no replication), an availability set (a VM with one or more copies within the same availability zone), an availability zone (a VM with one or more copies of different availability zones), and region pairs (a VM with one or more copies on different Azure regions).
Microsoft Azure's Strength
The use cases of Microsoft Azure are diverse and manifold, thanks to the number of service offerings the company provides. Azure has partnerships with Oracle, VMware and SAP, further extending its capabilities. Microsoft Azure has a strong managed service provider network with 32 partners on its list. On top of that, Microsoft leads the PaaS segment of cloud service providers with a suite of tools, including Azure DevOps and Visual Studio Codespaces (the tool that enables the use of a public cloud and developer tools, such as Visual Studio Code).
Microsoft Azure's Weaknesses
Microsoft support is quite expensive. In addition, Microsoft Azure has a lower ratio of availability zones than other cloud service providers. There's still room for resilience-centered reengineering efforts and service availability improvements though. On top of that, Azure doesn't provide any form of guaranteed capacity to its customers, and even pre-paid contracts and reserved instances are not capacity guarantees. During the COVID-19 spike, some Microsoft Azure customers were not able to provision the cloud capacity they had already paid for.
Microsoft Azure's Benefits
Azure is particularly well suited for organizations using Microsoft services. Microsoft Azure provides consistent services on the cloud and is a strong player in all use cases. This includes edge and comprehensive cloud offerings, in which other cloud vendors are not that well-versed. Microsoft Azure offers a $200 credit for 30 days to new users.
Google Cloud
Google Cloud has third place on Gartner's Magic Quadrant of cloud providers, after AWS and Microsoft Azure. In the last year, Google Cloud has substantially increased it's hybrid and multi-cloud workload using Antos which allows users to manage workloads on Google, AWS and Azure. Besides, Firebase, a Google-purchased cloud mobile Backend-as-a-Service (BaaS), has grown quite rapidly and became widely adopted by developers. Firebase remains a highly-demanded BaaS platform despite it being run on the top of Google Cloud.
Google Cloud Market Share
The market share of Google Cloud in infrastructure, as a service market, is 7% per Canalys. In 2020 Google was investing heavily in sales staff, resulting in an operating loss of $5 billion and an overall $13 billion revenue. However, these steps were needed to scale the business and improve its profitability.
Google Cloud Offerings
The Google Cloud platform offers 100 products that can be grouped into six categories: storage, databases, computing and hosting (servers, containers VMs), networking (VPC, load balancing, cloud DNS), big data (Big Query for data analysis, Dataflow for batch and streaming data processing), and machine learning (AI platform).
Google Cloud Cost
Google Cloud offers a pay-as-you-go model. A pricing calculator and custom quotes can help to understand the costs based on the workloads, locations and other variables. Google Cloud provides $300 in free credits for 90 days to new customers that start running cloud workflows with them. Also, Google Cloud has a special program for startups and they can get a minimum of $2,000 in initial startup credits to use.
Google Cloud Locations
Google Cloud is available in 200 countries. It spans 25 regions (9 in North and South America, 9 in Asia-Pacific, and 7 in Europe). Google Cloud has 76 zones and 144 network Edge locations. It's recommended to deploy applications across multiple zones within a region to make it highly available and fault-tolerant.
Google Cloud Strength
Google Cloud stands out in big data, machine learning and data science capabilities with it's products like TensorFlow, ML Kit and Google Datasets. It offers an end-to-end AI platform built on the latest technologies and is enabled by tools like TensorFlow and TPUs (Tensor Processing Unit – an AI accelerator application-specific integrated circuit).
Google Cloud Weaknesses
: Google has challenges with positioning itself as an enterprise-class IaaS solution. Its offerings have not yet reached the level of enterprise maturity that AWS and Microsoft Azure provide, and some of them are not yet as fully packaged as the ones offered by Google Cloud's rivals. Likewise, Google Cloud has a smaller pool of well-versed managed service providers than other cloud vendors.
Google Cloud Benefits
Google Cloud customers don't need to be afraid of the vendor lock-in since the main Google offerings are open source (Kubernetes, TensorFlow and Istio) which eventually became industry standards. These services have significantly influenced the deployment, scaling and management of enterprise IT in the cloud.
Alibaba Cloud
As per Gartner's report, Alibaba Cloud holds a solid fourth place amongst cloud service providers, after AWS, Microsoft Azure and Google Cloud. Founded in 2009 to deliver platform support to the Alibaba Group, it is now selling different cloud offerings to businesses worldwide.
Alibaba Cloud Market Share
Alibaba Cloud has the biggest market share among cloud providers in China and Asia-Pacific for IaaS (Infrastructure as a Service) and IUS (Infrastructure Utility Services). In 2020, Alibaba's cloud market share grew to 6% making it the fourth-largest Infrastructure as a Service (IaaS) provider. In December 2021 in its quarterly financial report, Alibaba Cloud achieved positive earnings growth for the first time in 11 years, thanks to COVID-19 which created a spike for cloud adoption and digitalization all over the world.
Alibaba Cloud Cloud Offerings
: Alibaba Cloud provides PaaS and IaaS. It uses both Xen and KVM (Kernel-based virtual machine) hypervisors that are a part of Alibaba's cloud architecture for creating VM's (virtual machines) that use the Elastic Compute Service. Alibaba also offers an Object Storage service, a CDN (content delivery network), a Docker-based Cloud Container Service, a pre-configured private cloud Apsara Stack, several database services based on Apsara DB, and a Cloud Intelligence Brain (an AI platform).
Alibaba Cloud Cost
Alibaba Cloud has a lower cost, by around 25%, than overseas cloud service providers. Compared with other cloud providers, Alibaba Cloud has a slower response time in locations like the USA. However, Alibaba Cloud has better CPU and memory utilization than the overseas cloud providers, making it more suitable for hosting large application workloads in the region.
Alibaba Cloud Locations
Alibaba spans over 23 regions and has 69 availability zones worldwide. Additionally, it is the number one CDN in China with over 2,300 nodes in China and 500 overseas nodes. It is the clear choice for enterprise cloud workloads located in these parts of the world or for businesses requiring transfers to China or Asia. On top of that, Alibaba Cloud has a presence in the US, UK, Germany, Australia, Japan, Singapore, Indonesia, Malaysia, India, and the UAE (United Arab Emirates).
Alibaba Cloud Strength
Alibaba Cloud offers a broad set of PaaS and IaaS that are comparable in availability, performance and security to the service portfolios of other service cloud providers. Companies located in Asia-Pacific and China that wish to leverage cloud services at scale in this part of the world may opt for Alibaba Cloud solutions. Alibaba is still further extending its infrastructure and presence to other locations in competition with other cloud providers, like in the Middle East. Alibaba Cloud is effective for hosting large apps and is scalable to sustain a peak number of users.
Alibaba Cloud Weaknesses
Alibaba has a limited adoption in other parts of the world, except for South Asia. In other regions, particular services may be available only when using specific computing instances. In terms of third-party software integrations and operational tools, Alibaba's international offering is limited more than Alibaba China's. Investment in international markets is needed for it to become a genuinely global cloud service provider.
Alibaba Cloud Benefits
Alibaba Cloud services, such as Express Connect, have a 44% better average network latency than the public ISP between the US and China. When using Alibaba Cloud a zero network packet loss was achieved, while using the public Internet had a 15% packet loss at various intervals. Alibaba Cloud had 75% better network consistency than the public ISP for traffic between the US and China. Alibaba Cloud is more predictable than the public Internet as it has an unrestricted bandwidth and a better infrastructure within South Asia and China.
Oracle Cloud
Oracle cloud holds fifth place among cloud providers, after AWS, Microsoft Azure, Google Cloud and Alibaba.
Oracle Cloud Market Share
Oracle's Cloud market share is around 2% and the company ranks fifth globally. In 2021, the company revenues were up 3% year over year, as per Oracle's financial results report. Cloud licenses went up 4% in 2020. Oracle's growth is relatively small and it's considerably lagging behind its main competitors.
Oracle Cloud Offerings
Oracle offers 65 cloud services, including the industry-standards like Kubernetes, Terraform and CloudEvents. Oracle offers an Autonomous Database, which is a service that leverages machine learning to self-repair and self-optimize, and that delivers higher performance. The company also provides dedicated regions in data centers, edge computing, clustered databases, bare metal GPUs (graphic processing units) and database machines.
Oracle Cloud Cost
When it comes to payment models, cloud pricing models are complex. The price depends upon different factors, such as CPU and memory usage. Oracle has customers that historically pay for licenses for traditional software-related services and can get a discount if they decide to run workloads in the cloud. Altogether, Oracle Cloud is not as affordable as AWS. However, Oracle offers a pay-as-you-go model where the IaaS and PaaS services are charged only for the resources used.
Oracle Cloud Locations
Oracle Cloud is available worldwide in 29 cloud regions. Within every region, Oracle customers can distribute their applications within at least three fault domains, which shields them from typical hardware or power failures. Some of the regions offer three availability domains, with three fault domains in each, providing an additional layer of high availability and resiliency. Oracle cloud regions are not limited just to customer workloads, as they can also provide enterprise SaaS solutions like Oracle Supply Chain Planning, Oracle Fusion Cloud ERP, and Oracle Human Capital management, that all offer additional value.
Oracle Cloud Strength
Oracle Cloud has a strong partnership with Microsoft Azure so that their customers can run their workloads across the two clouds. This ensures an additional layer of interoperability. Their customers can deploy the full stack of apps in a multi-cloud environment, preserving high performance and resiliency without a need to re-engineer the cloud architecture. Plus, Oracle customers can also migrate their existing workloads and apps, or develop cloud-native applications that use a blend of Oracle Cloud and Microsoft Azure services.
Oracle Cloud Weaknesses
Snowflake (data warehousing solution) is not yet available on Oracle, though two of the three of Snowflake's founders worked there for over a decade. Some of Oracle's customers, that use both Oracle and Microsoft Azure, want to limit the usage of Oracle Cloud due to the unfavorable perception of Oracle's viability. Oracle has a comparatively small market share in the database PaaS, which is especially important for businesses that are historically committed to Oracle database services. The company has made several steps in offering new products, such as Oracle Cloud Functions, that enable developers to create, run and scale applications in a serverless environment, however, not all of the new products have been adopted by Oracle's customers.
Oracle Cloud Benefits
Oracle stands out among other cloud providers in its meticulous architecture and its cloud services that are pretty competitive with the ones provided by different cloud vendors. Oracle delivers all of its services simultaneously in all its global regions, unlike other cloud providers. The company also offers a Dedicated Region Cloud@Customer for clients that have on-premise requirements and want to keep their data in their own data center and behind their private firewall. Oracle offers a free tier with no time limit and $300 for new customers.
IBM Cloud
IBM Cloud ranks sixth among the cloud providers. Instead of competing head-on against the major cloud service providers, IBM has doubled down on Red Hat (a company acquired by IBM in 2019, which provides open-source products for enterprises) to expedite hybrid cloud services across its offerings. The acquisition of Red Hat equipped IBM Cloud with a technology base that includes security and portability across multiple clouds, and enables IBM to scale its resources and capabilities. IBM hopes to increase Red Hat sales twofold in the next three years.
IBM Cloud Market Share
IBM holds less than 5% of the cloud market share. In 2021, IBM Cloud revenue went up 20% and RedHat's revenue increased by 18%, nonetheless, the total IBM earnings went down 4.5%. In 2020, IBM acquired seven companies that were focused on the hybrid cloud and AI. In particular, just a few days ago IBM acquired Turbonomic (a company that provides tools to manage application performance and Kubernetes). Turbonomic tools are quite valuable for hybrid cloud architectures that encompass cloud and on-premise workloads, and multi-cloud workloads.
IBM Cloud Offerings
IBM lists 174 cloud services for AI and ML, analytics, containers, databases, developer tools, IoT, logging and monitoring, networking, storage, and security.
IBM Cloud Cost
IBM regularly reviews its cloud product prices. However, the total cost for some scenarios are higher than the ones offered by IBM's rivals. IBM offers discounts for monthly usage and the final price depends upon the negotiated rate.
IBM Cloud Locations
The IBM cloud network consists of 60 data centers and six multi-zone regions (3 more will be opened in 2021) that are located in high Internet traffic areas across six continents. IBM Cloud encompasses 2,600 points of presence between data centers and networks and enables up to 20 TB outbound bandwidth.
IBM Cloud Strength
IBM is trying to reshape itself as a hybrid cloud and AI company. Throughout 2020, the company invested heavily to advance its cloud strategy. In particular, in 2020, IBM acquired Instana, a company focused on hybrid cloud application performance management. Instana enabled IBM to extend its own containerized cloud offerings running on Kubernetes. Besides, IBM Cloud is a viable option for legacy applications, especially for memory-intensive databases.
IBM Cloud Weaknesses
IBM Cloud revenue growth is 22%, which is inferior to the 45-50% growth rate demonstrated by AWS Cloud and Microsoft Azure. As a result of its legacy offerings, IBM Cloud is a complex platform. IBM is considered a laggard in the cloud service providers market, as in some cases the company is not embracing the newest models.
IBM Cloud Benefits
IBM Cloud offers 20 always-free cloud products and 11 short-term free trial products. In addition, the company provides limited-time offers and the list currently consists of 10 products. What's particularly valuable, is that IBM Cloud provides 24/7 support via a ticket system with its free plan.
Tencent Cloud
Tencent cloud is the closest rival of Alibaba's Cloud in China. In 2020, the company hired more than 3,000 employees for its cloud division and reported their number of servers which exceed one million. Tencent Cloud has also become the first company in China to reach a bandwidth of 1000 trillion bytes.
Tencent Cloud Market Share
According to Gartner, as of 2019 Tencent holds 2.8% of the cloud market globally. Tencent Cloud has a larger IaaS market share than IBM and Oracle, and its technological capabilities pose a daunting challenge to Alibaba, Tencent's biggest competitor.
In China, Tencent holds around a fifth of the market while Alibaba holds almost a half of it.
Tencent Cloud Offerings
Tencent Cloud offers 70 cloud products, including cloud VMs, Tencent Kubernetes engine (container management service), batch computing, cloud computing on servers with high-density GPUs (graphics processing units), auto-scaling, CVM (cloud virtual machine) dedicated hosts, and others.
Tencent Cloud Cost
Tencent CVM (cloud virtual machine) has better performance than Alibaba Cloud ECS (elastic container orchestration service), however, the price is slightly higher. As for the cloud database services, Tencent Cloud's performance and price were better than those offered by Alibaba. Overall, if choosing between Alibaba Cloud and Tencent Cloud, Tencent showed better performance and pricing options, but of course, there are other factors that should be considered when evaluating vendors.
Tencent Cloud Locations
The Tencent Cloud network spans over 27 geographical regions with 61 availability zones, including partner locations. The company also has over 1,100 cache nodes deployed across Mainland China and over 1,000 nodes in other countries and regions.
Tencent Cloud Strength
Tencent Cloud is proliferating quickly. In 2020, the company had pledged a $70 billion investment in cloud computing and AI. Tencent has a wealth of gaming resources and capabilities and offers a game ecosystem based on the cloud. The company is a video industry leader and provides a comprehensive set of services such as video on demand and interactive live video broadcasting. Tencent Cloud also offers customized products and services for WeChat ecosystem customers.
Tencent Cloud Weaknesses
Tencent Cloud has limited brand recognition outside China. For now, the company has a small international sales and technical presence, with no managed service provider ecosystem outside of China, and no support for Oracle. Gaming customers use the majority of Tencent's global cloud resources. Almost half of the overseas geographical locations are operated by a partner. Tencent is a fast follower of the leading cloud providers and shows fewer innovations while adopting the most successful offerings.
Tencent Cloud Benefits
An increasing number of video broadcasting companies have deployed services by Tencent Cloud. For example, an e-commerce platform Shopee used Tencent cloud to live broadcast a sale to 450 million viewers, while at the same time the number of in-app games reached 2.7 billion. The Tencent platform proved its reliability and high performance at this peak time. The company offers mature gaming solutions such as Global Application Acceleration Platform (GAAP) and Game Multimedia Engine (GME) that facilitate sophisticated game development and operation. In 2021, Tencent plans to establish new data centers across Asia, the Middle East and Europe.

Tabular summary of migration solutions offered by the top 7 cloud providers
Once an enterprise has made a decision about their cloud vendor, the next step is to migrate their data to the chosen provider. All cloud service providers offer different cloud migration solutions depending upon the customer's needs. Here's a summary table with the top cloud migration use cases: database, server, and application migration.
Avenga cloud services
Choosing the right cloud vendor is an important decision for businesses. Avenga cloud consulting services include an estimate of the effort required to select the optimal cloud provider as well as the migration of your infrastructure to a chosen platform.
Several Avenga Solution Architects will be assigned to your company for a predetermined period (from 2 to 4 weeks), based on purchased consultancy hours, to assist with a cloud infrastructure assessment. Avenga will assign a Senior Solution Architect as a resource to your company during the duration of the purchased services. In addition, Avenga provides a Project Manager that assists with planning and organization tasks.
Avenga consultancy services will help explain the existing instances and define the effort required to migrate these instances to a new infrastructure, either in the cloud or on-premises.
Service benefits:
Recommendations and best practices on the right technology choice and configuration
Estimate of possible cost reductions when consolidating the infrastructure during the migration
A to-do list of tasks and activities to sort out your technology and process gaps
Be a professional addition to your in-house IT department, providing expertise and knowledge
Delivery risks assessment
Migration roadmap
Service spotlights:
Kick-off meeting to define the scope and the tasks that Avenga Solution Architects will work on
Discovery and analysis of the current infrastructure
Categorizing the instances as per CPU usage; i.e., the number of users, business necessity, etc.
Discover consolidation and optimization opportunities
Determine the best fit of cloud or on-premise options (as per client's needs)
Estimation of the migration cost and duration
Suggested planning of migration stages
Pilot migration testing execution and acceptance testing
High-level design offering for the target infrastructure
A report on migration and recommendations for optimal ways to migrate the instances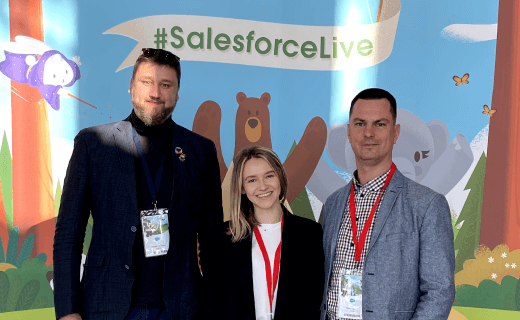 On October 13th, Avenga attended Salesforce Live Warsaw – one of the leading Salesforce events in Europe that provides a platform for customers, prospects, and partners to discover the latest Salesforce products and se…
Read more