A 7-Step Guide to Creating Your Cloud Strategy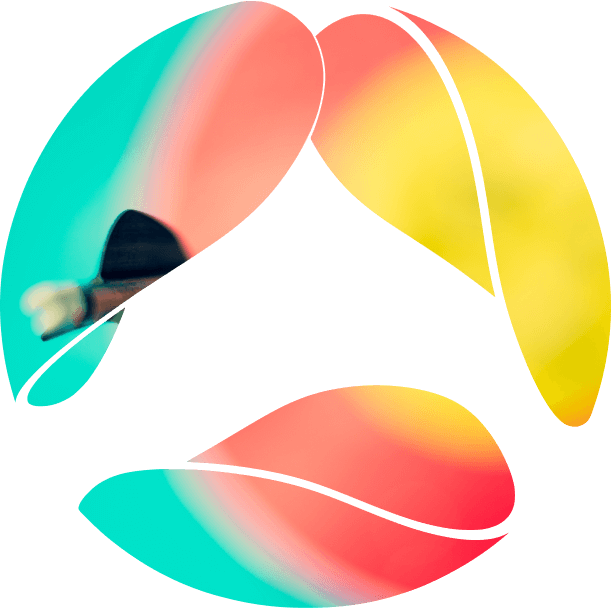 A 7-Step Guide
to Creating Your
Cloud Strategy
Follow this comprehensive 7 step-by-step process to assess your current infrastructure and technology landscape, and determine the building blocks of your cloud transition plan. Assess your current and desired cloud state using tools and techniques, such as the PESTEL framework, McFarlan IT portfolio grid, Fit-Gap analysis and others. Develop a cloud implementation roadmap composed of relevant initiatives.  
Why create a cloud strategy?
More and more organizations are turning towards cloud computing as an efficient instrument for deploying fast-to-market solutions for business-critical apps and workflows. However, adopting the cloud without a clear strategy and implementation roadmap is not effective and can cause problems. A well-thought out cloud strategy perapation process is needed in order to prepare the enterprise for smart and deliberate decisions regarding cloud initiatives. In this guide, you will be led through the essential steps for developing an efficient cloud strategy. 
What is the strategic value of a cloud strategy?
Though numerous enterprises have proclaimed a "cloud-first" approach, many of them don't have a well-established cloud strategy that clearly defines the "why", "how" and even "what" of their cloud implementation. A cloud strategy is an indispensable ingredient that guides your organization towards achieving pivotal objectives that will in turn lead the company to a multifold of favorable outcomes. 
Without a cloud strategy, an organization may try to accommodate a multitude of choices that often conflict with each other and fail to guide the business towards achieving its important corporate goals. With no cloud strategy, a firm doesn't have traceable business objectives and lacks the appropriate focus for the key challenges that need to be solved.  
Cloud strategy objectives
Defining a cloud strategy aims to:
Define the activities as well as the roles and responsibilities for accelerating the cloud adoption

Provide an enterprise with a decision framework to evaluate opportunities in the cloud in relation to strategic business objectives and a technology direction

Establish a cloud implementation roadmap 

Determine the targets, measures and key initiatives that assist with continuous integration and delivery
Stages of cloud strategy  / Cloud strategy elements
In the subsequent paragraphs, you will discover a detailed 7 step-guide to create a cloud strategy. This is a basic outline of the cloud strategy activities, but the depth and the thoroughness of the analysis can be adjusted as per the needs of the organization.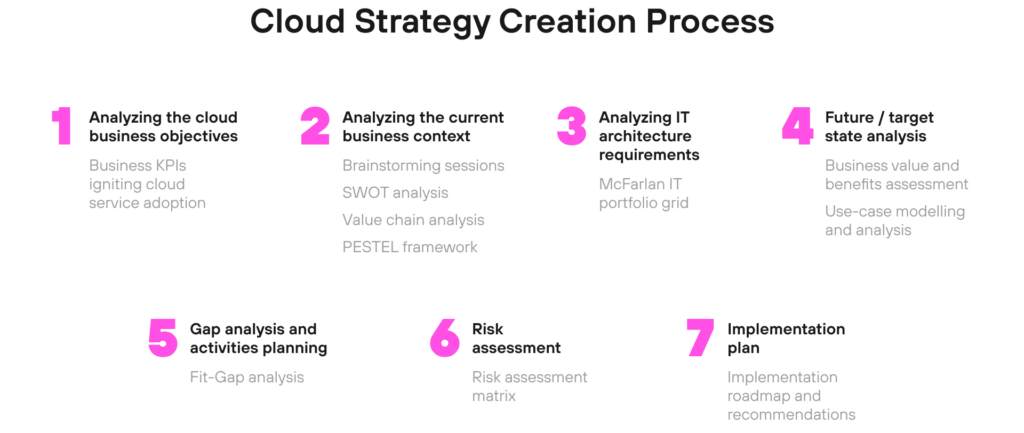 1. Set business objectives
Setting business objectives helps you to define exactly what your business wants to achieve by moving to the cloud. The most effective cloud business objectives meet the SMART criteria: they are specific, measurable, agreed upon, realistic, and time-specific. 
Align with a larger strategic initiative

. Having a cloud strategy ensures the tight alignment of the target IT architecture goals, measures and key initiatives with the strategic business goals. It encompasses a set of moves and actions that help an organization to reach its corporate objectives. 

Define strategic goals for cloud adoption. From an enterprise perspective, a cloud services adoption provides a solution(s) to the problem(s) or challenge(s) that businesses face. Companies investing heavily in a digital infrastructure desire to achieve one or several of the following business objectives:

Quicker release of new services, products or business model
Achieving operational excellence
Acquiring and retaining new customers
Upgrading the decision-making processes
Gaining a competitive advantage
Ensuring business survival

Assess business capabilities for cloud adoption.

Business capabilities form the identity and personality of an organization by outlining what an organization is good at. They are intangible assets, such as resources, expertise and knowledge, thought leadership, technological support, etc. Business capabilities are the outcome of investments in staffing, training, compensation and other HR areas. Differences in intangible assets, like capabilities, may explain why one organization is more successful than another. Business capabilities mapping has emerged as a core enterprise modeling technique, thus laying the foundation for cloud adoption. 
These activities are the cornerstone elements of cloud strategy that set the direction and focus for the company to follow.
2. Define the сurrent business context
At this stage in the analysis, we capture the macro-context of the business. The main deliverable of a current business context analysis is to set up the business' direction and define the cloud needs based on the strategy. No doubt there may be gaps between the current capabilities and those required to fulfill the cloud-enablement of a business.

The tools and techniques that are useful for a business context analysis are:
Brainstorming sessions

involving both stakeholders, decision-makers and IT specialists to determine and evaluate the impact of a cloud adoption.

A

SWOT analysis

applied to a cloud strategy assessment that can be used to create a matrix of different cloud deployment models and how they serve the needs of the business. A SWOT analysis also helps to evaluate the current IS system and leverages its strengths and opportunities in order to overcome weaknesses and threats. Additionally, a SWOT analysis facilitates assessing company operations and helps to determine the areas that need to be improved. 

Value chain analysis

helps to determine what the primary activities are that create the most value for the customer and whether the cloud improves the effectiveness and efficiency of the processes.




The

PESTEL framework

is an effective tool in determining the external forces an organization faces, as shown in the image below: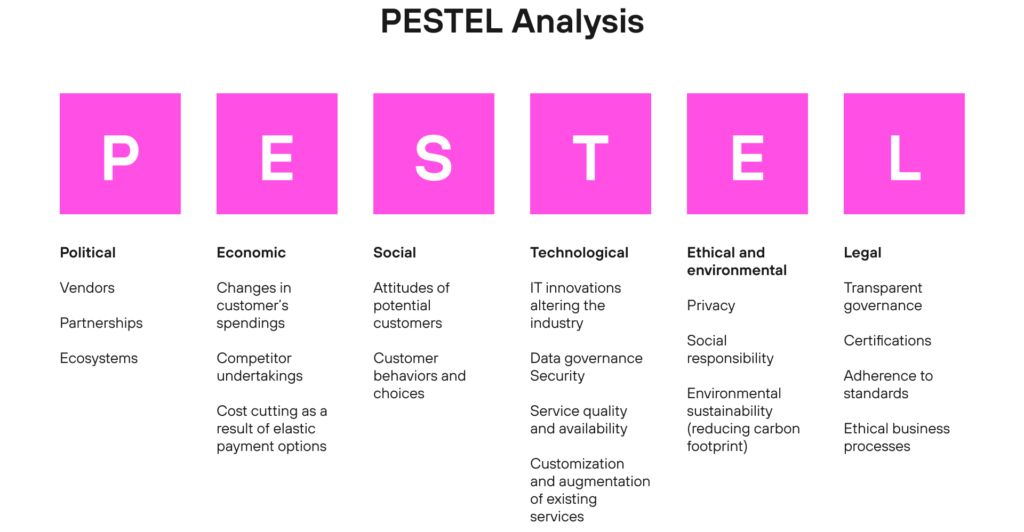 3. Assess the as-is IT Architecture
Focusing purely on a cloud technical implementation roadmap without taking into account the business architecture is unlikely to deliver a truly holistic picture of the existing concerns. The objective of an analysis is to create an understanding of the business IT architecture by defining its technical maturity as well as any factors that need to be improved or reworked along the path towards a flawless cloud implementation.
IT architecture analysis includes the following:
Assessment of the current IT enterprise architecture, applications, digital infrastructure, interfaces, data governance policies, metrics and key objectives etc.

Evaluation of the current technical debt, caused by choosing limited solutions instead of better ones and the implementation of which would take longer. Utilizing agile practices, continuous integration and delivery firms can limit the amount of technical debt acquired.

Outlining the areas of concern from the two above evaluations and taking into account any appropriate actions or further analysis.



A useful technique to help with defining the current, strategic, high potential, or key operational cloud support systems is a McFarlan IT portfolio grid.
A McFarlan IT portfolio grid determines the strategic impact of IT applications in our case cloud services on the current vs. future industry competitiveness. All of the existing infrastructure in the company can be categorized as per the McFarlan IT portfolio grid.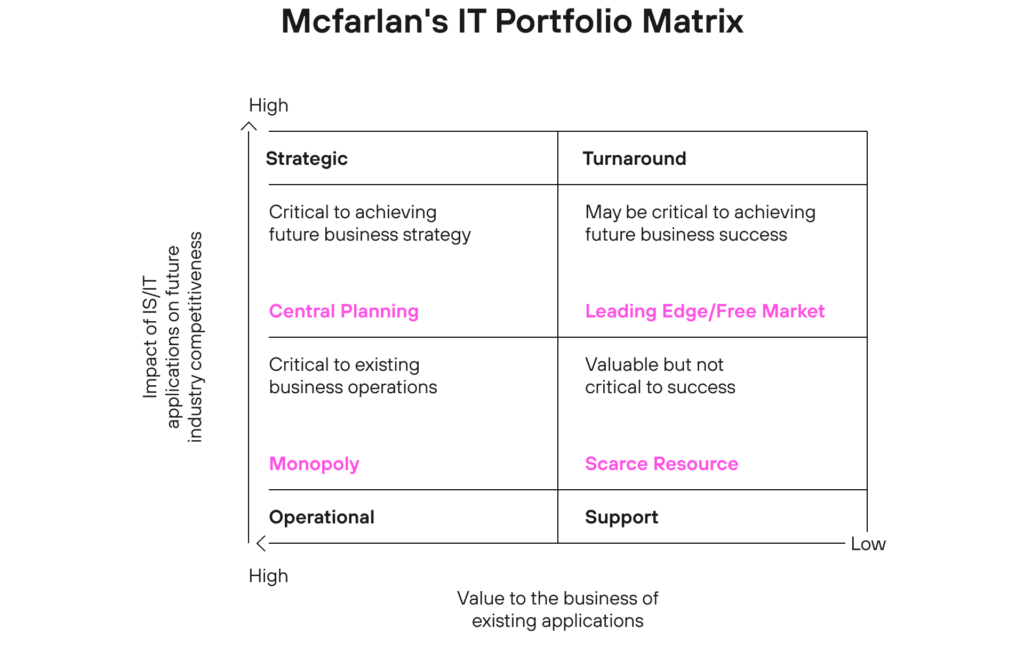 Mapping the cloud infrastructure on the McFarlan IT portfolio grid helps to match business requirements to the cloud and to evaluate how existing systems are contributing to a company's business objectives. It also assists in identifying how an organization can achieve any strategic business objective by utilizing the cloud.
4. Future / Target state analysis 
The key objective through this future/target state analysis is to develop a vision of the cloud-enabled enterprise architecture. This includes both business and technological aspects of the cloud deployment. At this stage, the impact on business processes and operations is considered.
Some of the issues related to cloud transformation are linked to security constraints that narrow down the choice of cloud platforms and cloud deployment architecture. The considerations that should be taken into account are the authentication, identification, confidentiality and auditability options.  
The following tools can be helpful in defining the desired cloud state:

Use-case modelling and analysis

is used to determine the requirements of the cloud system and set the overall scope for the cloud provider. This helps everyone to understand what needs to be done so the business can achieve the maximum value from their cloud investment. 

The

business value and benefits assessment

enables an organization to quantify the pros and cons of the different cloud solutions, and thus choose a specific cloud solution by evaluating financial returns (cost savings) and non-financial returns (operational risks).
A business value and benefits assessment includes the following steps: 
Determining and categorizing tangible and intangible value drivers, as well as the financial and nonfinancial benefits, for the organization in the cloud.

Creating a cost–benefit model and estimating some of the financial metrics (ROI, TCO, NPV, and other tangible financial metrics) and critically assessing them within the cloud context.
5. Gap analysis and activities planning 
Gap analysis includes identifying the gaps and dependencies in proposed cloud solutions to ensure there are no barriers to implementation or the migration plans. 
To determine the strategic gaps that need further assessment regarding cloud investments, the following evaluations can be taken: 

Assessing potential technological and IT workflow gaps and opportunities for streamlining, reorganization or simplification.

Prioritizing the potential cloud and other technology advancements that are needed. 

Developing an action plan to handle the challenges and issues determined by the evaluation.
The key components of the cloud strategy at this stage mainly consist of iterative fit-gap assessments. 
Fit-Gap analysis is a useful tool that can help with identifying priorities, overlaps and shortfalls. Whenever the cloud "fit" happens, a fit-gap analysis is performed to determine the issues ("gaps") and ensures that every one of these "gaps" will be solved by the offered cloud solution. The main goal of a fit-gap analysis is to determine the building blocks of a cloud transition plan by putting them into five categories, as shown in the image below: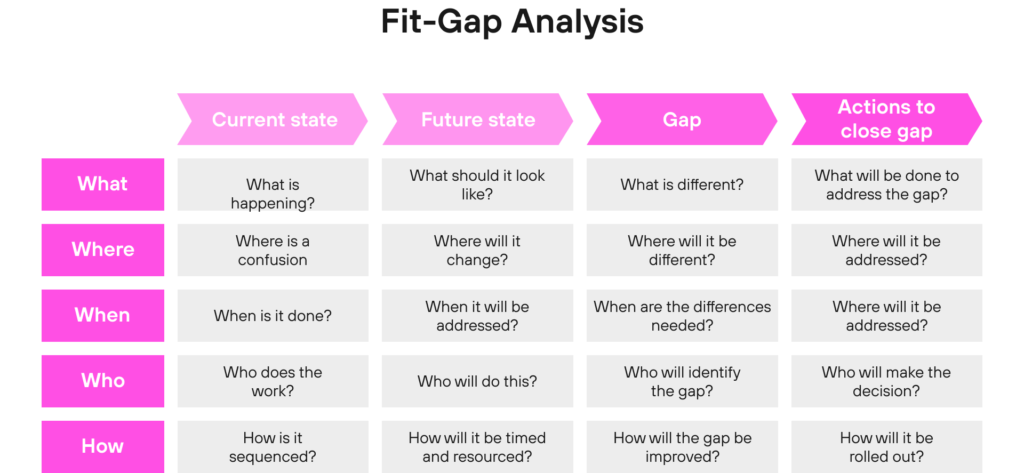 After conducting a gap analysis, stakeholders elaborate on the appropriate implementation priorities and scope, and then develop the final implementation plan that consists of all the relevant deliverables (noted above).
6. Risk assessment 
Risk-aware cloud strategies are critical to the success of the business. A risk assessment helps to determine and validate potential issues, and compiles the appropriate mitigation strategies. 
Before an organization can assess or mitigate risk, it must first identify the likely risks that may occur. There's no failsafe method to identifying business risks, however companies can rely on their past experiences to estimate what may or could happen. 
A business risk assessment includes determining potential risks and then categorizing them into two categories:
'Delivery'

risk (risk of not delivering the required capabilities); e.g., reliance of vendors, lack of scope clarity, unorganized deliverables, poor project management, etc. 

'Benefits'

risk (risk of not achieving awaited business benefits); e.g., lack of alignment of the business with the IT department, misaligned technical standards in architecture, appropriate security compliance, undefined metrics to evaluate business outcomes, etc.
After the risks are identified, they have to be prioritized in accordance with their likelihood of occurrence.
For elements in each category of risk, an organization can create a tiered probability-impact matrix analysis. Such an analysis helps to define (and ideally quantify) risk components, in terms of their impact and probability (low, medium or high), as shown below: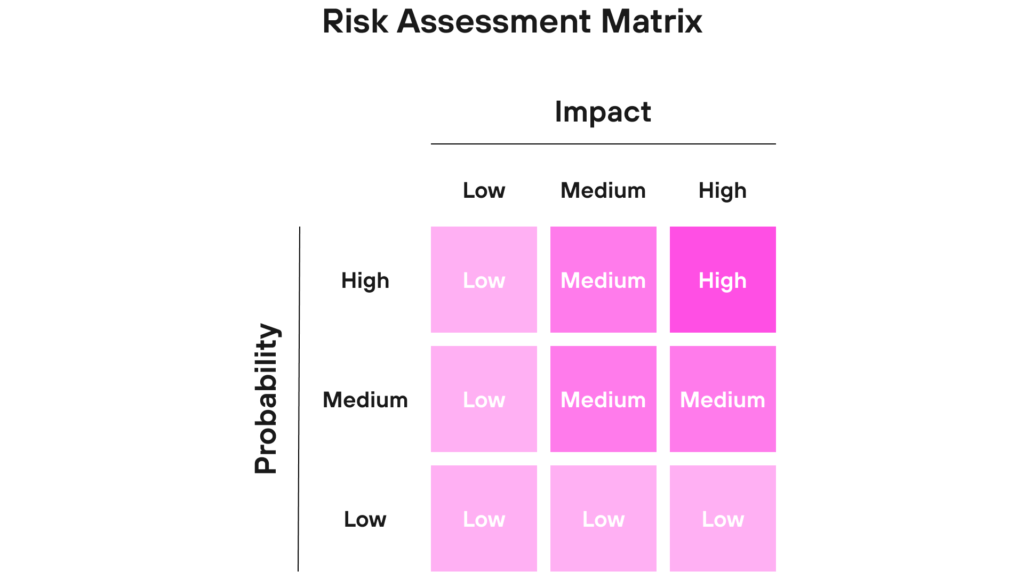 After the risks are prioritized, it is advisable to create a risk mitigation strategy/action plan. 
7. Implementation plan 
The key objective of the implementation plan is to support the cloud delivery through a viable implementation roadmap and resulting recommendations. The main activities include evaluating the dependencies, along with the costs and benefits of different cloud transition projects. The prioritized list of projects will form the foundation for the cloud implementation plan.

The main deliverables of a cloud implementation plan are
Establishing a management framework for the cloud adoption that is in alignment with the strategic business priorities, operations, project management, and data governance policies. 

Arranging resource distribution and capability planning to ensure the resource requirements are fulfilled and the delivery is on track.

Classifying and prioritizing cloud projects in line with the project sequence, timeline and key milestones.

Forming best practices and recommendations for a successful cloud implementation. 

Planning a governance process that ecompasses the management and assessment of the cloud strategy and its implementation success.

Integrating and documenting the cloud strategy.



Adjusting the cloud strategy
The seven steps described above are a generic approach towards a cloud transition. In practice, it is necessary to adjust or extend the cloud strategy, then prioritize and adjust according to the business context you are in. Yet, it's important to carefully conduct both an as-is and to-be analysis to get a clear vision and understanding of the current and desired state. 
Cloud adoption may be the natural evolution of an enterprise's digital transformation. Sometimes, more work needs to be done to figure out a clear vision for a cloud adoption which is followed up by some very explicit IT architecture groundwork. The adjustment of the cloud strategy comes from the practical assessment of resources and competences availability, as well as the benefits that can be delivered by using the cloud. 
It is crucial to set relevant cloud adoption priorities in accordance with business objectives and priorities. In the planning stage, coherent organization-specific guiding principles for a cloud adoption will serve as significant milestones towards a successful cloud strategy. 

Why develop a cloud strategy with Avenga?
At Avenga, we can help you build a viable cloud strategy, starting from the assessment of your current (as-is) on towards your desired (to-be) state, in order to develop a transition and implementation roadmap. We are here to support you at the delivery and execution stage as well. Below are several reasons why you should consider partnering with Avenga:  

We are not a cloud-only

consultancy

so we can offer a more in-depth analysis, along with better design and engineering practices, all by leveraging our expertise in other technology areas.

We are not biased towards any cloud vendor and we can offer a fair comparison between the vendor-specific, vendor-agnostic, and hybrid options.

We have proven competencies. Our experts are certified in all the major public cloud providers: AWS, Azure, GCP, and Heroku.

We design and build cloud solutions that enable proper data governance, data warehousing, advanced analytics, and AI/ML. 

All our cloud solutions go along with the proper DevOps services. Every solution delivered is well-automated and is easily deployed, maintained and retired. The infrastructure is properly set up, continuous integration/continuous delivery processes are established, and security risk is mitigated (e.g. DDOS & intrusion).
Discover key tips for forging a productive and reliable relationship with a software outsourcing company.
Read more