11 automotive trends to be excited about in 2023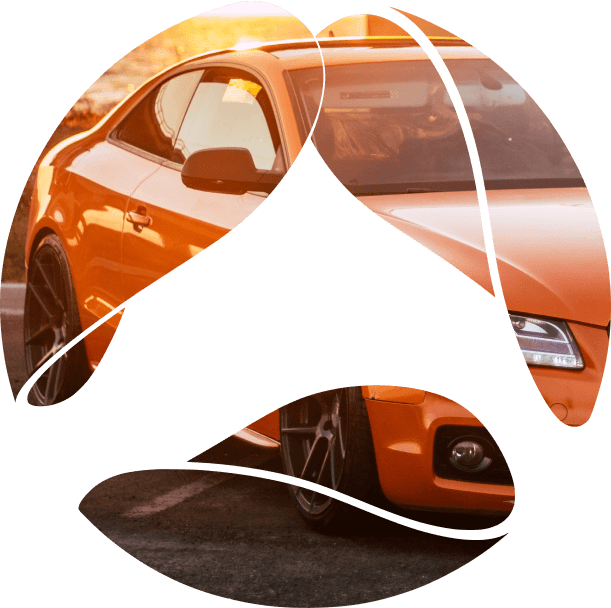 11 automotive trends
to be excited
about in 2023
Here are the most significant automotive trends emerging in 2023. Some of them have to do with ADAS and autonomous driving, and some with the market in general.
The cars of the past were isolated. The cars of the future will be completely connected – to cities, infrastructures, and volumes of data. Modern vehicles and their sophisticated technological capabilities interest both leading car manufacturers and technology organizations. Avenga, who's also working on several connected cars and future mobility initiatives, continues to keep a close eye on the automotive industry. Today, we'll discuss the most exciting automotive trends of  2023.
ADAS-related trends
ADAS investments
Automated Driver Assistance Systems (ADAS) are all about self-driving and active safety. They're mechanisms designed to support and improve drivers' performance in various situations. An ADAS sees the world through radars, ultrasound tools, lidars, and cameras (Fig. 1). Its main function could be providing information to the driver, taking automatic action to prevent emergencies, or both.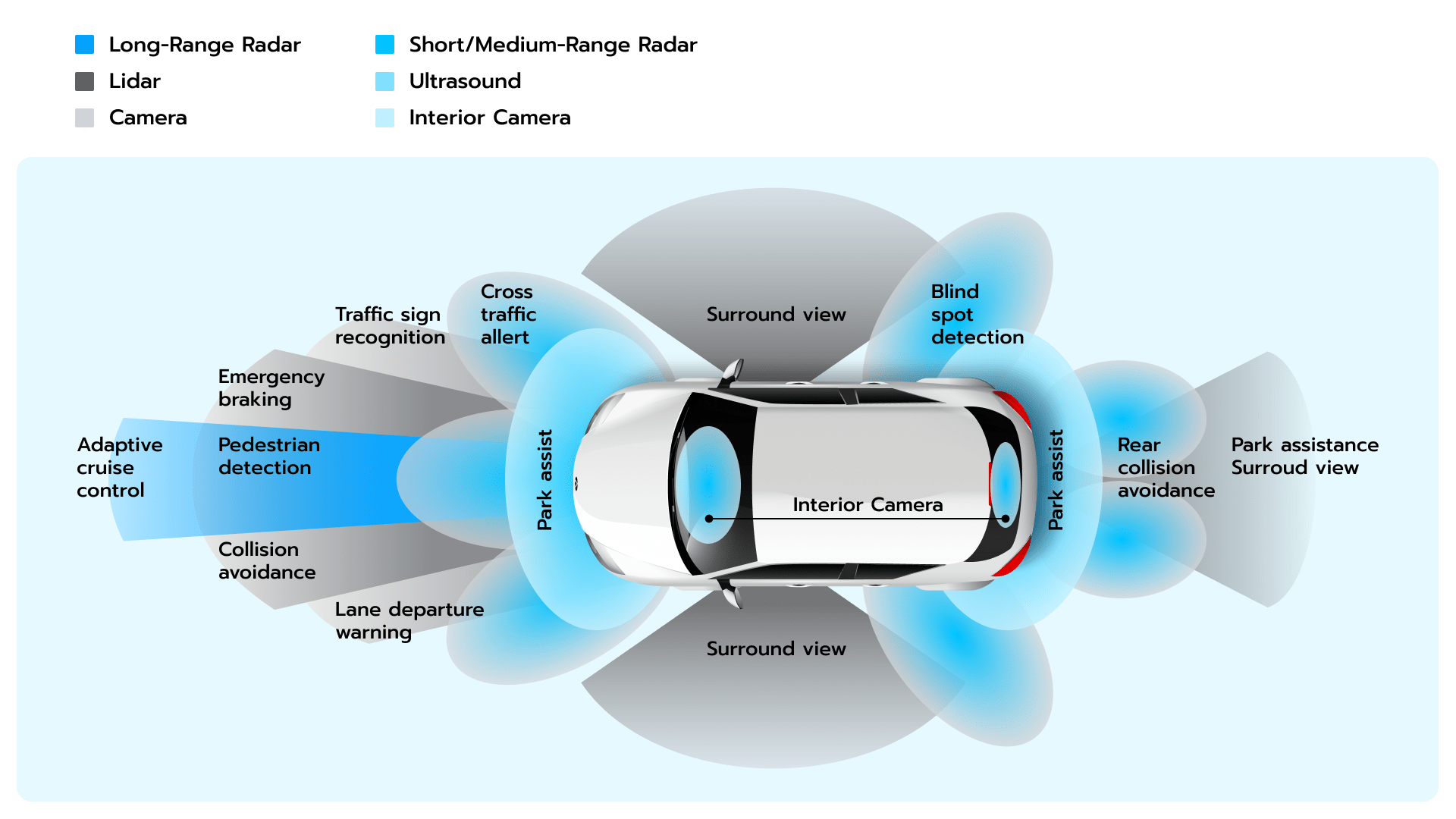 Figure 1. Example of ADAS sensor configuration in a modern vehicle.
ADAS systems are comprised of sensors, chips, an interface, and a powerful processor capable of ingesting and integrating large volumes of data. The number and nature of specific ADAS modules can vary from manufacturer to manufacturer. They can include:
Automated steering and self-driving functions – corrective, emergency, automatically commanded, and autonomous steering.
Adaptive Cruise Control (ACC) – keeps the car at a safe following distance and ensures it doesn't exceed the speed limit.
Lane departure warning (LDW) – prevents the driver from veering out of the correct lane by generating audio-visual alarms.
Emergency stop tools – awakens/alerts the driver after noticing their unresponsiveness. If unsuccessful, the system can stop the car safely out of traffic and turn on the hazard warning lights.
Automatic emergency braking – identifies potential collisions and automatically applies the brakes; can also take preventive safety measures.
Blindspot monitor – uses sensors to monitor blind spots and alerts the driver whenever an obstacle is approaching.
All major OEMs (original equipment manufacturers) now embrace these technologies to increase safety ratings, build a competitive advantage, and attract clients. They standardize ADAS systems across models or offer them to clients as an additional perk. This dramatically impacts the automotive market, raising the demand for specialized cameras, ultrasonic sensors, radar, and Lidar systems, as well as the software elements that can power ADAS components efficiently.
Overall, the ADAS market is expected to reach $64 billion by the end of the year. Its most promising segments are emergency response and safety systems, and various comfort functions that are now being morphed into premium assist tools.
4D radars
The 4D imaging radars are finally in consumer cars. BMW has already integrated Continental's ARS540 4D imaging radar into their iX model, giving the car a unique sensor performance, and Feifan, an innovative Chinese automaker, put the ZF 4D unit into their R7 car. These new radars can offer up to a 16x resolution improvement compared to previous generation models. As a result, they can significantly enhance autonomous features while simultaneously raising the vehicles' security and control.
In the conventional supply chain, manufacturers now put 4 chips into each unit instead of using a single radar chip. This helps achieve a much more stable and smoother ADAS functionality.
Besides Continental, SF, and other titans, many smaller automotive players are also working on their new-age 4D imaging radars. Some of them report being able to place smaller-sized transistors on their chips, making them much more powerful. For example, Uhnder, a promising startup from Texas, says they can get more resolution out of their single chip than Continental or SF can extract from four of their chips. We're excited to see what happens to this technology in 2023.
Lidar
Lidars have been making lots of noise in the automotive industry for a long time. But up until now, they were prohibitively expensive for most automakers. However, we believe 2023 might be the year the technology reaches the point of widespread adoption. Lidars are renowned for providing radar functionality at a vastly higher resolution. They  can accurately measure angles and velocity, and enable vehicles to create highly detailed 3D maps.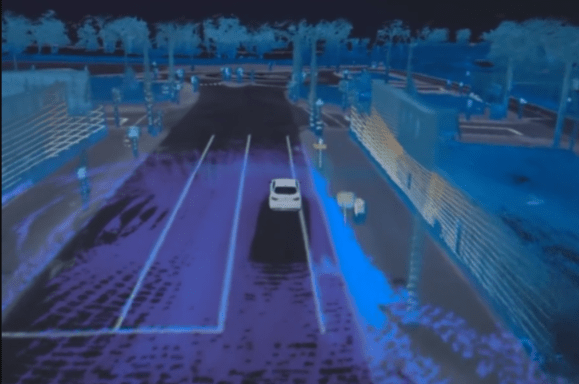 Figure 2. Example of how Lidar sees the world
This year, Volvo will incorporate Luminar's Lidar into their EX90 (an all-electric SUV), while the Audi A8 and some Mercedes models will carry a Valeo Lidar chip. The units from Continental and Denso will be in some Lexuses and Toyotas, and Volkswagen and BMW will use Innoviz devices in their new vehicles. Nowadays, the technology is only available in premium cars, but we think that will change by the end of the year.
Level-3 vehicles
Conditional automation means cars can make certain decisions on their own, but still require human override in complex situations (Fig. 3). So far, we've only seen a few examples of level-3 (lv-3) cars on the market; a hundred units of the Honda Legend were made available in Japan and a few Mercedes S-Class smart models were released in Europe.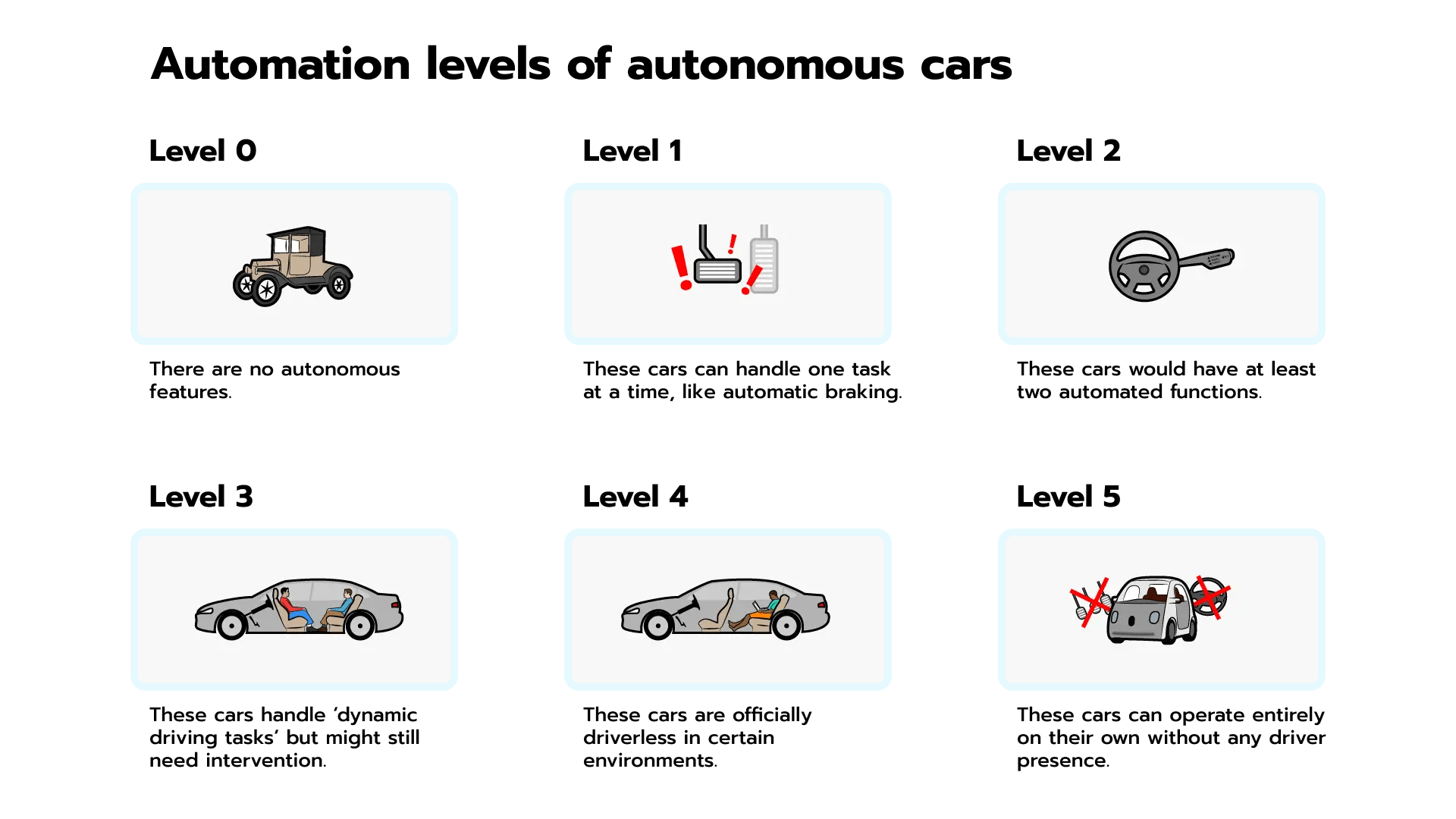 Figure 3. Levels of automation 
This year, advanced radar and Lidar may become mainstream. Therefore, we expect more OEMs to engineer lv-3 vehicles and more countries to allow them on their roads. Also, since last summer, the UN passed a law increasing the speed limit for automated passenger and light-duty vehicles from 60 to 130 kph, so automakers are likely to ditch the Traffic Jam pilots (which only do one lane, slowly) and use Highway Pilots that can leverage all the advanced Lidar features. Generally, 1 in 5 vehicles will be level-3 automated by 2025.
Embedded computer vision systems
Due to the increased computational power of chips, embedded vehicle CV systems can now process high and low-resolution image data at high speed. As a result, we're seeing advanced multi-camera vision platforms being applied for a wide range of tasks, including 360 surround view, roadside recognition, occupant monitoring, lane positioning, reverse camera, etc.
OEMs increasingly leverage enhanced hardware and sophisticated ML models to boost the performance of surrounding awareness algorithms, which detect objects through different types of sensors and improve the accuracy of perception software. Advanced visual data analysis capabilities can also complement various ADAS and autonomous driving features; for example,  AI operating on the edge can quickly integrate insights into an ADAS and issue the appropriate commands to ensure safe driving.
And, since companies like Arm, Ambarella, and others are already actively developing and refining image signal processors for embedded automotive vision systems, we think more car manufacturers will incorporate CV features into their vehicles in the near future. Additionally, new technology and (SoC) offerings will appear on the market for various ADAS and general automotive applications soon.
General automotive trends
5G and C-V2X
5G is a new network connection standard that can transform and vastly expand the functionality of smart cars. In particular, it can have a massive impact on multimedia, infotainment, and automated driving features that will enable advanced future mobility.
With 5G, a vehicle gets lots of bandwidth, up to 10 Gbit per second, and low data latency. Therefore, 5G can serve as a base for real-time car-to-car communication and enable instantaneous over-the-air updates. In a scenario where a car is approaching an obstacle, a 4G network can pass this alert to the driver in 20 or even 30 milliseconds, whereas with 5G, the message will come in a millisecond.
This connection standard brings us closer to a world where vehicles are fully plugged into cities' infrastructures, can talk to each other, connect with traffic lights, and even 'know' what's around the corner at any given moment. And if governments mandate 5G and C-V2X right now, they could prevent about 8.1 million car crashes and 44 thousand deaths, according to the University of Michigan Transportation Research Institute.
However, 5G has a rival in WiFi though. The latter is already a mature technology and can potentially compete with 5G in terms of latency. However, it is less secure and has a vastly inferior range.
The 5G C-V2X combo is now backed by a trade group comprised of dozens of the world's most prominent car manufacturers (Audi, BMW, Ford, Jaguar, etc.) and chip makers (Intel, Huawei, Ericson). It will certainly get more recognition in 2023.
Software-orientedness
As the automotive industry is trying to change its mechanical components, outdated processes, and operating models, car manufacturers will ramp up their cooperation with software vendors and hire more software engineers. Many OEMs are still heavily hardware-oriented, but this is rapidly changing since clients increasingly want advanced software functions in their cars.
What also needs to be addressed is the movement toward modern electronic architectures. Engineers are trying to replace distributed function-specific ECUs (electronic control units) with more standardized and centralized cloud-connected vehicle computers.
The incorporation of standardized integrated platforms can increase the stability of components, enabling over-the-air updates, and thus giving manufacturers a chance to enhance products without having to go through expensive recalls. It can also allow OEMs to develop and integrate applications at any point of the production process.
A typical commercial car currently features about 100 million lines of code, whereas a Boeing 787, for instance, only has about 14 million. So, of course, OEMs face overwhelming challenges when trying to engineer complex embedded systems on their own. And in 2023, they will try to fill all the technology expertise gaps even more persistently.
Automotive integrated system suppliers and pure software firms in the industry
The demand for software vendors' services will increase this year, since reliable technology partners can assist OEMs in adapting operational software development tools to the automotive industry's needs and driving process efficiencies in an agile setting. More importantly, technology organizations will keep playing their traditional role of supporting car manufacturers in diversifying competencies, growing platform development, reducing the resources allocated to tasks that add little value, and delivering new capabilities to customers quickly, thus achieving/maintaining a market edge.
When it comes to automotive giants, they too will require all types of assistance to become data-driven organizations in 2023. Technology partners can enable them to build both low and high value strategic capabilities and achieve sufficient levels of technology integration. We're already seeing examples of this in Ford partnering with ArgoAI, Volkswagen acquiring the telematics organization WirelessCar, and in numerous instances of smaller manufacturers and OEMs executing thorough technology scouting. This trend isn't exactly new, but it is also not going anywhere.
Autonomous trucks
Ever since TuSimple's truck successfully navigated an 80-mile open road journey without human involvement, autonomous trucks have been one of the most exciting trends in the automotive industry. The autonomous and semi-autonomous truck market segment will reach $1,550 mil by 2030. And, the key drivers for its growth are the increasing driver shortage and the massively growing e-Commerce sector, which stands to achieve significant transportation and delivery cost reduction from using the technology.
We're already at the point where the operational design domain for these trucks is achievable and it's within reach using the current autonomous technology capabilities. So, we anticipate the first announcements for driverless routes to appear soon.
Power electronics
Over the last few years, large and small organizations have been working to improve the capacity and range of their battery packs in DC-DC converters, inverters, and onboard chargers. This trend will grow even more in 2023.
GM, Renault, and Hyundai have already announced they're switching to 800V (or higher) vehicle platforms with silicon carbide MOSFET, and more automakers are expected to follow suit. It should be noted, however, that more density, higher operating temperatures, and switch frequencies require more robust power modules. That's why when semiconductors become more powerful, we anticipate copper wire bonds and double-sided cooling designs to be adopted rapidly since they can facilitate a speedy application of 800V platforms and SiV inverters. Idtechex predicts at least a 10% rise of 800v vehicle platforms by 2030.
Electric motors
Another thing to be excited about this year is the new designs of electric motors, which can drastically enhance their power density and torque. We've already seen axial flux motors used instead of rare earths by several OEMs and predict that more manufacturers will embrace the trend in the near future.
Increased power torque raises the power dynamics and driver cycle efficiency. To achieve it, the EV market uses permanent magnets, wound motors, and induction motor technologies, as they seem to be the most cost-effective. Various reports point to the fact that permanent magnets will still be the go-to option this year, but magnet-free variants will also start to appear on the market given their even lower production costs and sustainability. We're keeping a close eye on this trend and so should every player in the automotive field.
Final words
The automotive industry is quite dynamic and, at times, unpredictable. Nowadays, when OEMs are rushing into the world of mobility and sustainable practices (which wasn't the case historically), the industry is being reshaped at an almost unprecedented pace. Avenga helps both automakers and technology companies navigate the turbulent automotive market, develops and enacts comprehensive innovation strategies, and engineers custom software solutions to support their initiatives.
If you'd like to learn how we can help your organization build a competitive edge – reach out to our experts right now for a free consultation. Contact us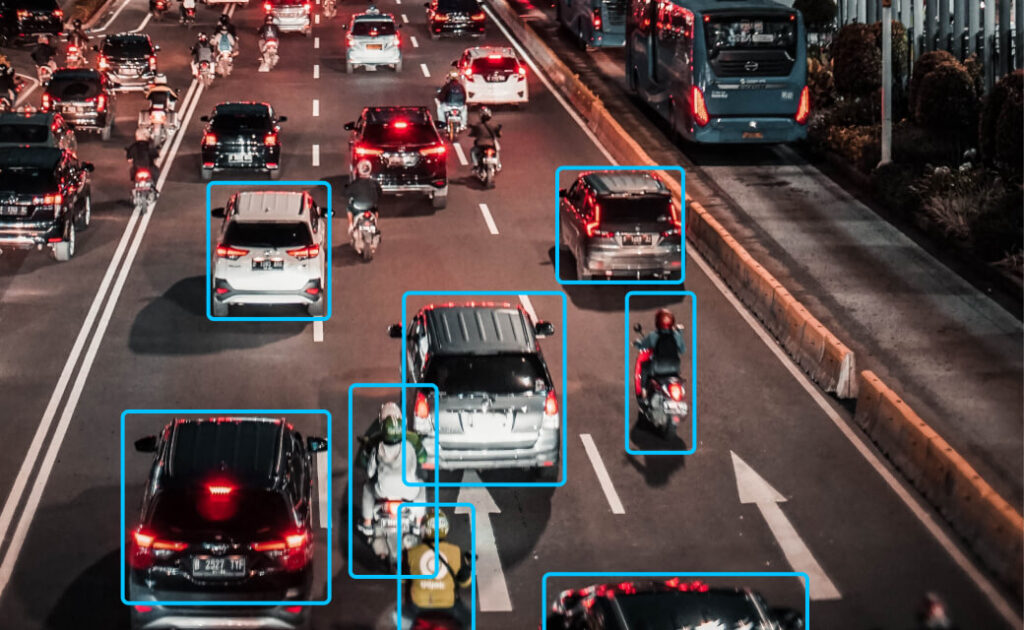 Find out about our experiments with stereo cameras for obstacle detection in ADAS.
Read more
Start a conversation
We'd like to hear from you. Use the contact form below and we'll get back to you shortly.