Your partner in transforming the industry
Avenga is a technology partner to the leading pharmaceutical, biotech and medical firms, contract research organizations (CROs), clinical research institutions, and pharmacovigilance vendors in transforming the future of the pharmaceutical industry.
Let's work together
Pharma & life sciences industry facts
7.5
years is the average length for the clinical trial research phase.
Source: Chi-Jen Lee, Clinical Trials of Drugs and Biopharmaceuticals
80%
of clinical trials do not manage to recruit and retain enough patients and fail to meet enrollment timelines.
Source: Clinical trial delays: America's patient recruitment dilemma
$2.6 bn
is the total cost of developing one new drug and making it through the FDA approval phase.
Source: Duggan & Pence, Approval Rate for Drugs Entering Clinical Development, 2019
Our Pharma & Life Sciences Expertise
Custom software development for preclinical & clinical trials, drug commercialization, manufacturing, distribution, and safety.
Preclinical/ Clinical Trial Management Software Development

Accelerate your commercial drug development and regulatory processes with a secure and complaint preclinical & clinical trial management software, such as:

ePRO (Electronic Patient-Reported Outcome) data collection
eDC (Electronic Data Capture) software development
eCTMS (Clinical Trial Management System) development
eCRF (Electronic Case Report Forms) integration
eCOA (Electronic Clinical Outcome Assessment) integration
Patient recruitment solutions
Early clinical data management solutions

Pharma Manufacturing and Commercialization Software Development

Stay organized, maintain strict quality management and streamline pharma manufacturing to meet client's specifications and regulatory requirements with the help of:

ERP (Enterprise Resource Planning) software
MES (Manufacturing Execution Systems)
MOM (Manufacturing Operations Management) platforms
MRP (Material Requirements Planning) platforms
Production planning and procurement software
Traceability and recall management software
Product quality management software
PA (Prior Authorisation) solutions

Pharma Distribution Software Development

Streamline the flow of ordering, selling, warehousing and shipping pharmaceutical and life sciences products with the help of:

Accounting, customer, and service management
Automation and inventory software
Warehouse management solutions
Logistics solutions
Supply chain management software

Drug Safety Software Development

Build pharmacovigilance software or drug safety solutions that lower your operational costs and are fully compliant with pharmaceutical regulations with the help of:

Adverse drug reaction reporting applications
Adverse events database development
Integration of workflows and gateways with the WHO drug dictionary
Medical request information management software
Drug safety monitoring software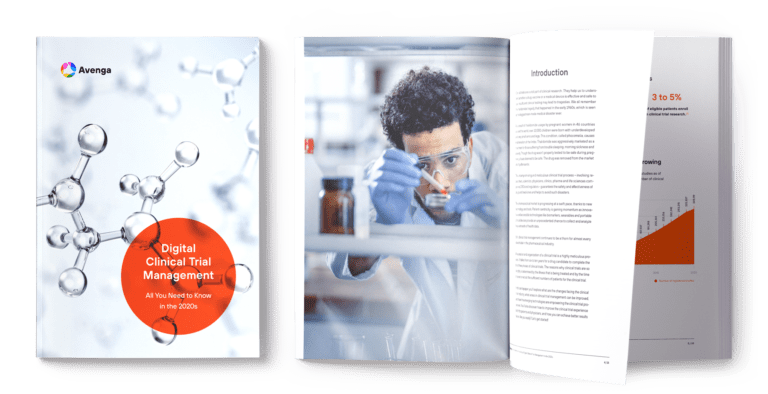 All You Need to Know About Digital Clinical Trial Management in the 2020s
We created for you a 25-pager whitepaper discussing the most important new technologies that are transforming the clinical trial processes. Explore how digital tools for clinical trial management can help you to bring treatment to patients faster and with a lower cost.
Download whitepaper
Do you need to speed up drug development cycles, introduce real-time insights on sales and user data, enhance operational efficiency, engage customers, improve control and security compliance, and deliver first-rate patient outcomes?

We, at Avenga, deliver full-spectrum services to Life Science and Pharma enterprises globally and make innovation happen. We help our clients drive digital transformation to face tomorrow's challenges in introducing new drugs, and to cure what is not curable today.
Pharma technology solutions
Data Science

Adaptive clinical trials
Analytics and reporting, with adaptability
Digital transformation through doctor-patient connection, iOT, and wearables
Getting access to the best doctors
Holistic and consolidated approach to data management

Clinical Trial Management solutions

Drug development platforms
Drug simulation software
Trial's management and reporting
Patient recruitment systems
ECM software

Pharmacovigilance

Incident reporting
AI & ML solutions for pharmacovigilance (chatbots, etc.)
Pharmacovigilance IT architecture
Signal detection software
Adverse event processing
Pharmacovigilance assessment

Pharma Sales & Marketing

Sales, prescriber and claims data management
CRM and Salesforce automation solutions
Closed Loop marketing
KOL management
Conversational AI & NLP chatbots
Assisting sales with leads using a business network
Working with pre-sales to qualify opportunities and identify gaps
Assist in recruiting partners
Training

Data Management

Electronic Data Capture systems (eDC)
Electronic patient reporting outcomes (ePRO)
Secure data storage for your digital assets
Governance software
Phenotyping data capture

Precision Medicine for Clinical Trials

Web and cloud solutions for precision medicine for pharma
Companion diagnostic (CDx) tests development
Biomarker analysis
Genomic data integration and data processing
Molecular workflows management
How technology transforms pharma
2x
more clinical trials using biomarkers are likely to get approved.
Source: Wong, C., Estimation of clinical trial success rates, 2018
42%
of novel molecular treatments that were approved by the FDA in 2018 were precision medicines.
Source: FDA, New Drug Therapy Approvals, 2019
6/10
tech giants are diversifying in pharma and healthcare.
Source: Deloitte, Global Life Sciences Outlook, 2019
Avenga achieved ISO/IEC 27001:2013 certification for the information security management system (ISMS).
ISO/IEC 27001:2013 certification is a set of best practices and controls regarding cybersecurity risks. It emphasizes data confidentiality, integrity, and availability and is widely recognized as the gold standard for ISMS.
Case studies
See how we reshaped the business of global Pharma and Life Science providers by helping them to deliver improved patient outcomes through digital services.
Discover our projects
Technology Capabilities for Pharma & Life Sciences
We help pharma & life sciences organizations develop software for the entire pharmaceutical lifecycle, starting from the component research to drug approval. Our goal is to help our clients optimize their current business processes and bring drugs to market faster.
Mobile enablement and connectivity

Native, web, hybrid clinician app development for Android and iOS
Wireless enablement using Bluetooth and BLE
Secure mobile architecture development
Machine to machine mobile solutions

Software testing and quality engineering services

Intelligent test automation
Iterative testing
Cross-platform app testing
Performance and network testing
Security QA
Pattern mining and QA analytics
Avenga's subject-matter experts (SMEs) and technical professionals are ready to help and find solutions for your struggles.
Affordability and depth of expertise have made them a critical development partner. Their team easily scales to accommodate project size and is equally flexible with scheduling across time zones.
They were a great partner. In the three years I partnered with them − on no less than four projects for three separate companies − I was always impressed with their employees' professionalism and focus on excellence. I did not view them as vendors, but as teammates.
We have the experience.

Avenga has a proven track record of delivering excellence for life sciences, pharma, biotech and CRO's (Contract Research Organizations). For over 15 years, we have maintained and grown ongoing long-term collaborations with the world's leading pharma & life sciences companies. At Avenga, we combine innovations and technology to tailor and support IT solutions for drug product related operations including clinical trials management, pharma sales enablement, patient engagement portals, industry-specific education, e-prescriptions, integrations with EMR and PMS, legacy systems migration, and a lot more.

We help you outpace the competition.

Avenga helps you anticipate the trends in biotech & pharma to increase your delivery speed and outcomes. We have the expertise in advanced software development solutions and can fill in your technology gaps with the right people with the right knowledge. We help enterprises redefine the patient experience and incorporate our expertise for life sciences and pharma into a pragmatic value delivery.

We know the regulations and adhere to them.

Avenga stays abreast of the latest regulations and policies in the pharma and life sciences sector, like FDA, HIPAA, HINTECH, and GDPR. Unlike other product development firms, Avenga software development services are tailored to the highly regulated pharmaceutical & life sciences industry. We understand the complexity of the present-day challenges faced by biotech firms and CROs and implement innovative tech solutions to address these challenges. We meticulously adhere to the strictest Standard Operating Procedures (SOPs) that concern clinical data management and monitoring across all our development stages.

We have the right people in the right place.

More than 4,300 Avenga professionals across 31 offices are working hard to deliver exceptional impact for our customers and help pharma and life sciences bring discoveries to life. We are proud to have a vast number of software development experts that have already built flexible, compliant and progressive solutions for top pharmaceutical and life sciences companies in the world.
Have a project in mind and not sure how to get started?
Take the first step.