Advantages of cloud-based application development
Choose cloud-based development for a high-performance app with built-in security, availability and scalability.
Enhanced data management

Easily access your cloud app and data from anywhere in the world. Shared storage, a massive storage capacity and high availability make cloud applications the natural option for data sharing and collaboration.

Faster time to market

Time is everything for your IT project. Cloud application development platforms offer core security, integration, APIs and other functions that give developers a jump start. What's more, as cloud applications work on both Android and iOS, you can launch a new cloud app faster than a native one.

A better user experience

Cloud application development companies can easily tweak and update your cloud app to adapt to sudden workload changes or improve your user experience. Whenever developers alter your cloud app, it won't suffer downtime or performance failure which will adversely affect your customers.

Improved security

Advanced cloud security features, such as encryption and tight security protocols, improve software security and help you resist cyberattacks. Cloud providers are constantly improving and updating their services in line with industry challenges, which protects you from breaches.

Protection from data loss

With native cloud apps, your data depends on your server, so once the server goes down or is stolen, you lose the data for good. On the other hand, cloud applications store encrypted data across multiple servers and back up regularly. In other words, data stored in the cloud can always be recovered.

Reduced costs

Cloud-based application development is more cost-efficient than native, thanks to serverless infrastructures, cross-platform compatibility, scalability, and simpler maintenance. Likewise, you eliminate the need for local backup and rollover solutions in the event of hardware failure.
Our cloud application development services
Get a fully optimized cloud-native app or the flexibility of a cloud-agnostic solution, or go hybrid to balance the two. At Avenga, we'll align your cloud app development with your business needs and strategy.
1. Cloud-native solution development

Get an app with services and components optimized for your chosen cloud platform

Fully utilize the capabilities of your chosen cloud provider

Optimize costs with serverless development and cloud automation

Get an easily scalable solution

Shorten time to market

Reduce third-party provider dependency; your cloud providers will maintain your cloud through managed services

Say goodbye to the challenges of managing a physical data center

Get the choice of IaaS, PaaS or SaaS cloud app models

How we do it:

We, at Avenga, utilize ITIL (Information Technology Infrastructure Library) practices to ensure the planning, delivery and overall lifecycle of cloud application development services that fully align with the needs of your business. We embed ITIL framework in our workflows to be certain the cloud app development processes are effective and that flawless service delivery is achieved.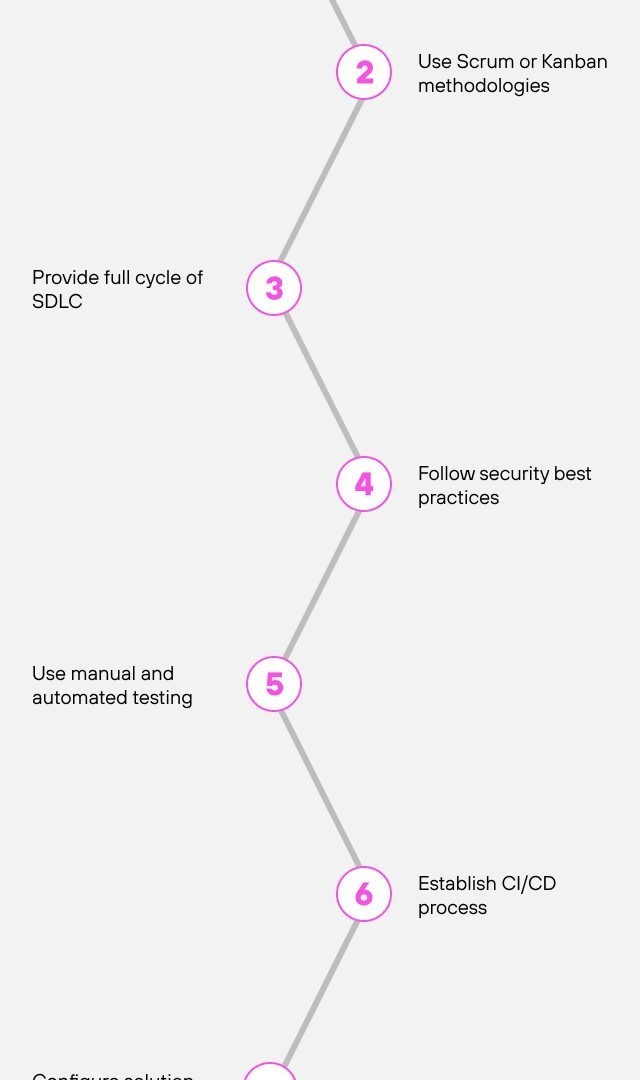 Deliverables:

Implementation roadmap

Requirements specification

Solution architecture

Installation checklist

Source code and artifacts

Team composition:

Project Manager

Business Analyst

Solution Architect

UX Engineer

Software Engineer

Data Engineer

DevOps Engineer

QA Engineer

AQA Engineer
2. Cloud-agnostic & hybrid solution development

Shift your applications and workloads seamlessly between cloud platforms whenever you need

Take advantage of a multi-cloud strategy

Avoid vendor lock-in and move seamlessly to other providers when needed

Customize your solutions with the best features and security options from each provider

Maximize cost-effectiveness

Enjoy higher flexibility and scalability

Enhance risk management with the best solutions offered by different cloud providers
Deliverables:

Implementation roadmap

Requirements specification

Solution architecture

Installation checklist

Source code and artifacts

Team composition:

Project Manager

Business Analyst

Solution Architect

Software Engineer

DevOps Engineer

QA Engineer

AQA Engineer
Cloud Migration Approaches
We offer the following application migration approaches:
Rehost (lift-and-shift)

Move the application from your internal servers and place it in the cloud without any changes.

Replatform

Migrate applications and data to a cloud platform, preserving the same system architecture.

Repurchase (drop and shop)

Replace an existing solution with a new SaaS service.

Refactor

Partially or fully redesign and optimize an existing application.

Re-architect

Fully redesign the architecture of the application.

Rebuild

Re-develop an app or solution from scratch in the cloud.

Retire

Withdraw the current application or the part of an app functionality that may be refactored, re-architected, rebuilt, or repurchased.
We dive deep into the business needs that your cloud application services should address and then match your objectives with technical solutions.

Certified experts in all major clouds — AWS, Azure, and Google Cloud Platform

In-depth expertise in full-cycle cloud application development for businesses at all levels 

Broad and deep industry experience: pharma & life science, insurance, financial services, automotive, real estate and more

An unbiased holistic approach to cloud application development

Build your cloud app with Avenga! Focus on business growth while we tackle your app challenges.
Get in touch with us
Why choose Avenga for cloud app solutions?
At Avenga, we provide full-cycle cloud application development services, from app design and development to testing, performance monitoring, and maintenance.
20+ years of hands-on practice

With over 20 years of experience, we know how to help you build highly available, scalable and interoperable applications. We have expertise in all major clouds — AWS, Azure, Oracle, Salesforce and Google Cloud — so you get the best of industry practices and new technologies.

A focus on your business and budget

We focus on your business and industry needs along with the technical options. The result is a cost-effective and secure cloud solution that's tailor-made to your project objectives. We also ensure that you control your expenditures throughout development.

Industries from finance to pharma

Financial services, automotive, pharma, insurance, real estate, (your industry here)... Whatever your sector, be sure that we can guide you all the way from strategy planning to cloud app release, helping you choose the cloud development technology and services that will meet your needs.
Avenga's willingness to make sure that we are collectively successful stands out. Whether it's bringing on more resources or providing some other capabilities, they go above and beyond. They bring their broad portfolio of talent to the table. I have had bad experiences with vendors in the past, but Avenga made me feel like I had nothing to worry about.
Meet any cloud challenge with Avenga
Reach out to us. Use the contact form below and we'll get back to you shortly.