Happy Birthday Devops am Dom!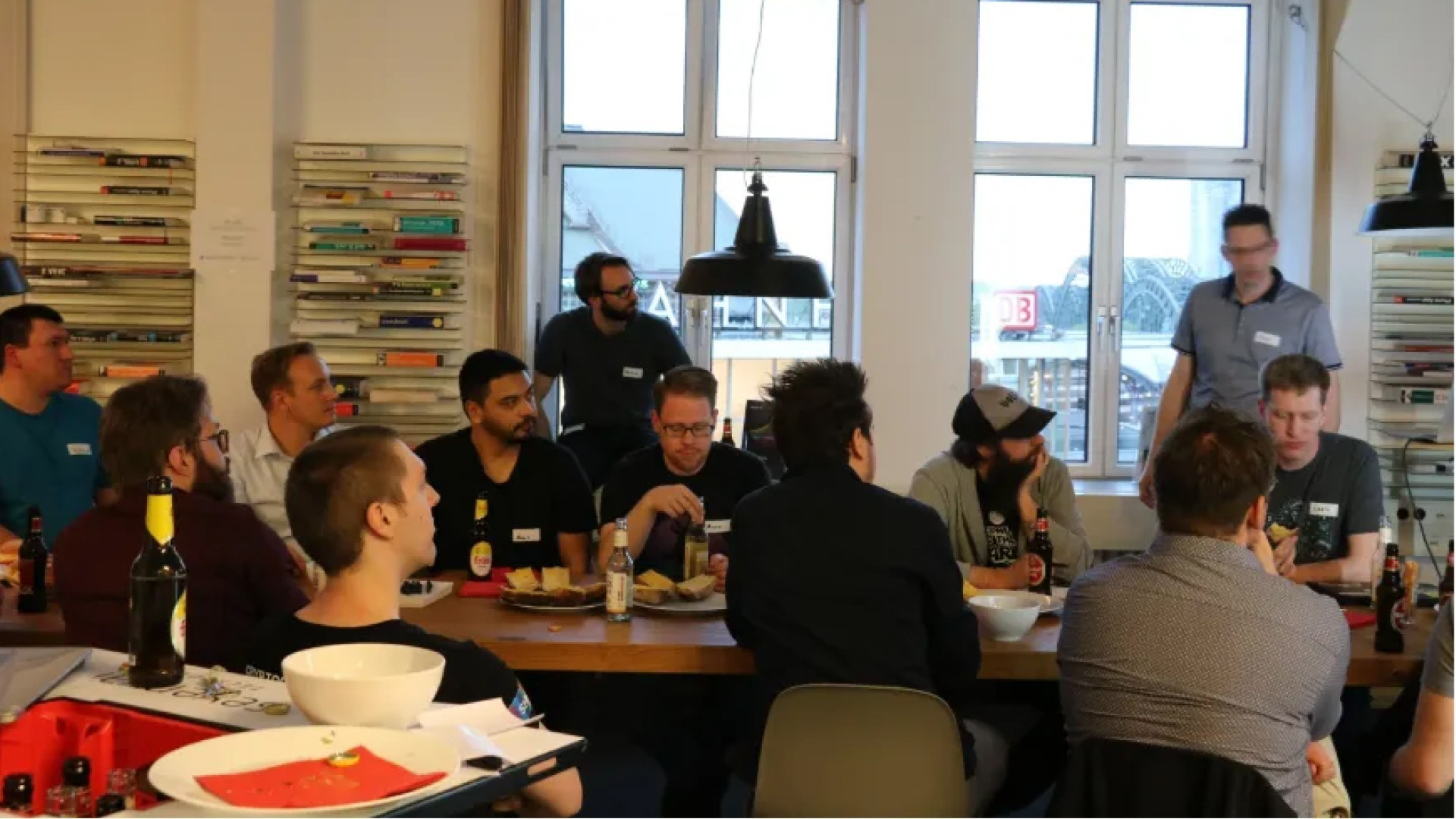 written by Sophie Morawietz
One year ago to this day, on November 15, 2018, the first DevOps am Dom Meetup took place in the Cologne Avenga Office. To date, the Meetup group consists of more than 300 members. There were six events with lots of exciting talks and discussions on the most varied topics from the DevOps world. For the first anniversary, Sophie, the organizer of the Meetups from day one, interviewed Shorty, who has been the second part of the organizer duo for the last few months.
Looking back at one year DevOps am Dom – How would you assess it?
Much, much better than I expected – in the meantime, the Meetup is almost running independently. At the beginning, I assumed we would have more difficulties: That we would have to do more advertising, that fewer people would come, that finding speakers and content would become more difficult. We tried all kinds of things and everything always worked out.
Has anything changed since the first DevOps am Dom Meetup?
We've become a really good, well-coordinated team able to organize Meetups almost in our sleep. I've accomplished my role as organizer and am much less nervous about the meetings. So for the first time, I was completely relaxed at our last Meetup in October and participated in the Terraform Workshop almost like a "normal" visitor.
What makes the DevOps am Dom Meetup special?
I think we stand out because of its really cozy atmosphere, the extensive and super working infrastructure, and the great catering. Everything just falls into place and sets an almost perfect basis for the talks and discussions. I've been to several meetups and user groups myself and often there was something not quite right: The technology didn't work or wasn't available, there was nothing to eat or even drink.
What do you take with you from the Meetups?
All kinds of things! The lectures always have contents or suggestions I can take with me into my everyday work – very concrete, mostly technical tips and tricks, as well as principles or philosophies that are more abstract, and destined for the meta-level. And what I always take with me is a type of grounding: Hearing that others face similar challenges and solve them in a similar way as we do, totally reassures and enriches me. In future, I'd like to have even more exchanges on these topics with the participants.
What would you recommend to someone who wants to start a new Meetup?
You should definitely make sure that people feel comfortable, and that the atmosphere is right. Don't neglect the importance of food and drinks ;-). Functioning technology is a must. The organizers should listen carefully to the participants and find out who, for example, could hold a talk at a future date – and at the same time, possibly coax others who'd normally be slow to approach the organizers on their own initiative. You don't have to be an attention seeker to be a speaker at a Meetup and provide exciting input. And it's very important to actively engage with the participants and ask them for feedback.
What can participants look forward to in the future?
Of course, we should keep to the familiar form of the Meetup. But since, in the meantime, organizing the meetings has become routine for us, we have various ideas about what we could do differently or additionally in the future. We want to encourage more exchange among the participants, for example, by organizing meetings in the Lean Coffee Format. And we want to involve the participants more actively in shaping the Meetup itself. My head is buzzing with ideas like having our own website where we can publish the presentations and other content.