Financial software solutions & fintech software expertise
The Financial services industry is getting more and more savvy about innovation and digital transformation. We speak the language of the industry and provide financial institutions, banking, insurance, wealth management and fintech experts with pragmatic technology solutions and financial software development.
What do you need to redraw the lines within the Financial services industry?

Eliminate business risks
Enrich customers experiences
Deliver value-added services
Automate processes
Strengthen security
Predict and prevent fraud
Integrate third-party services
Gain insights from Big Data
Comply with regulations

We deliver Innovations for

Loan and credit service providers
Wealth management institutions
Investment and commercial banks
Exchanges and brokerages
Insurance companies
Payment processors
Mortgage banks
Financial market data suppliers
FinTech providers
Avenga is a fintech expert
Fintech or Financial technology translates the potential of data to be monetized. We provide comprehensive consulting services, financial services software engineering together with the key technology acceleration solutions to gear up for fintech software development consumer-oriented services in different industry sectors.

From ideation to POC, to deployment, to all-inclusive support, our professionals harness innovation and deliver an end-to-end experience that includes strategy, architecture, customer experience, service management - all within a new fintech ecosystem.

Actualize innovations with the right tech partner.
Get in touch
What we do
We help fintech experts, financial institutions, wealth management, banking and insurance companies transform their offerings with custom financial services software and fintech software for emerging customers' needs, speed up time to market, compete by means of technology, find valuable business insights and enrich security of end-products.
Payment gateway

We pioneer in online and in-app payments focusing on a seamless experience, security, and fraud prevention.

Mobile banking

We work with online and on-premise banks to digitalize customer onboarding experiences and simplify financial operations.

Loans management

We analyze historical data to reduce risks, automate loan issuance, and cut costs across credit markets.

Easy integration

We develop custom APIs to integrate clients' solutions with widely accepted third-party payment services.

Robotic process automation

We automate processes within the client's organization and provide automated communication tools for their users.

Analytics and reporting

We enable financial service providers to make informed decisions much faster with visualization dashboards and forecasting features.

Risks management

We advance businesses with technologies to manage financial and regulatory compliance risks.

Security

We focus on secure authorization, automated fraud detection, data encryption, and distributed ledgers to safeguard finances from all angles.

Omnichannel experience

We create digital interfaces for banking apps and web platforms and introduce gamification into customer's interactions to engage them to use your product.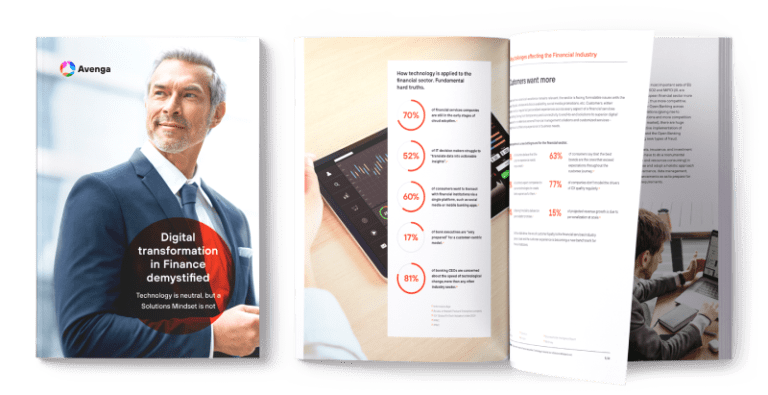 Digital transformation in financial services: technology and solutions mindset
Where is the Financial Services Industry on its journey to digital? A whitepaper by Avenga explains digital transformation for financial business resilience. Demystify key challenges affecting the Financial Industry and find out how to evaluate your paths to digital.
Download the whitepaper
Technology capabilities for financial services industry
We equip financial service providers with innovative solutions, engineering backup, technology expertise, and real world industry experience. Our consultancy, coupled with financial services software development, increases the productivity of a clients' organization(s), improves the user experience of their customers, and provides product visibility across the newest digital platforms.
Digital infrastructure

We can build a virtual cloud environment for your financial solution that supports complete functionality, decreasing infrastructure cost and eliminating downtimes.

Legacy apps migration

We migrate critical parts of your on-premise systems to the cloud, structuring the large volume of legacy data and the most critical features in secure warehouses.

Real-time analytics and forecasting

We visualize important financial insights from analytics and reporting systems as well as assist in making data-driven decisions for credit scoring using AI, Machine Learning, and Big Data technologies.

R&D innovations

We partner with financial service providers to develop a proof-of-concept for their innovative idea and efficiently support their production efforts from concept to a market-ready solution.

Customer-facing apps and interfaces

We design user experiences for value-focused digital solutions in payments and banking, creating user flow that engages customers with your product.

Distributed ledger technology

We apply Blockchain technology to improve security and transparency for loan management and payment processing systems.

Microservices architecture

We focus on the flexibility of software to make it responsive to changing demands and implement new features faster without extra effort.

Enterprise reporting solutions

We implement hierarchical report systems to provide wealth management and financial institutions with the ability to track organizational, managerial, and producer-level performance against key business objectives.

Finance CRM

CRM software for finance empowers your organization to revolutionize while handling all its crucial data and improves customer engagement by applying a personalized approach, data integration services, and marketing solutions from retail to investment and insurance business lines.

Explore
Avenga achieved ISO/IEC 27001:2013 certification for the information security management system (ISMS).
ISO/IEC 27001:2013 certification is a set of best practices and controls regarding cybersecurity risks. It emphasizes data confidentiality, integrity, and availability and is widely recognized as the gold standard for ISMS.
Avenga R&D fintech industry experts make sure our clients benefit from next-gen technology applied at the back-end systems of established financial institutions and with proven engineering processes for consumer-oriented services.

We can help you unlock the value of any currently stale data and legacy systems with the speed and agility that defines fintech.

On top of the fintech 360° customer view, our clients (among which there are some of the largest asset managers, leading innovative insuretech providers, global investment and commercial banks) get robust controls in place, due to the security and regulations adherent solutions.

They trust Avenga R&D fintech software development to bring innovation and mitigate risks by examining technical feasibility, market exposure and scalability with the implemented MVP/PoC while enhancing internal processes.
Technology Services Behind
Avenga is a trusted technology partner by some of the world's best to bring digital improvements into action. We can mobilize a team of seasoned fintech experts, full-stack software developers, PMs, data scientists, UX / UI designers, DevOps specialists to achieve even the most ambitious project goals.

We bring a reliable digital foundation to the financial services industry and fintech by utilizing a full spectrum of tools and technologies:

Salesforce
Big Data & Analytics
AI & Machine
Learning
Cloud & DevOps
Business Intelligence
Distributed Ledger Technology
Robotic Process Automation
Strategic Data Storage
Microservices Architecture
Client case studies
This is how we have fostered new frontier technologies for customer-centered financial services to industry innovators in banking, wealth management, financial consultancy, and loan services.
For the development of an integrated information and integration portal, the focus on customer benefits and behavior was particularly important to us. We have found a partner who really focuses on usability and can optimally integrate into a network of different partners.
They are attentive to detail, require minimal management and the quality of output is as high as in-house developers. Working alongside them has been a pleasure and I look forward to a continued partnership.
They have a record for developing cutting-edge software with minimal guidance. There's no web issue that their disciplined team can't resolve immediately. They have the perfect amount of commitment, producing effective deliverables at a rapid pace.
A Digital Financial Economy Needs Open Banking to Succeed

Oct 15, 2020 I Sandra Zey (SVP Strategic Key Account Management at Avenga)

Open banking can transform the digital financial services, but developing APIs and technology for it is just as important as open banking regulations. What exactly stands behind the open banking and what are the pros and cons of adopting new openness throughout digital finance?

Explore

How to Use Salesforce to Power Your Financial Services

Nov 03, 2020 I Sandra Zey (SVP Strategic Key Account Management at Avenga)

For the financial industry, Salesforce CRM, platform integration and it's custom toolset clearly upgrade the quality of customer experience, help build up digital innovation, and impact revenue directly. Here's a look at what the Salesforce ecosystem can offer.

Explore

Customer experience in the financial industry

Mar 25, 2020 I Jan Webering (CEO)

What the big Internet companies have shown also holds true now for banks and insurers: They have to gear their online services increasingly more to the wishes of their customers. The aim is to achieve the most positive "customer experience" possible. How can this be achieved?

Explore
Still thinking on how to win your customer with digital transformation?
We'd like to hear from you. Please use the contact form below and we'll get back to you shortly.