Why should you adopt the cloud?
For all kinds of business, growing revenue and decreasing costs is an important driver for any technology adoption, including that of the cloud. In particular, cloud adoption enables the following benefits:
Accessibility and mobility.

The data in the cloud can be accessed from anywhere in the world (with the appropriate user permissions). The automatic cloud updates ensure the service is protected against security vulnerabilities and other issues.

Security.

Secure solution design and secure development lifecycle, along with secure practices and approaches enable businesses to ensure the system's confidentiality and integrity, as well as to keep the data safe and private at all times.

Scalability.

The uncertain times of today require businesses to be able to scale or shrink their workloads unexpectedly. The ability to handle sudden workload changes wisely enables companies to function effectively without affecting the application's performance.

Increased agility and speed.

The infrastructure in the cloud can be provisioned in minutes instead of months, and de-provisioned just as promptly.

Costs savings.

Cost savings from a cloud adoption come from the expanded efficiency in the firm's day-to-day operations, such as database administration, deploying new applications or buying and setting them up, and configuring servers.

Faster time to market.

Agile development practices and flexible cloud deployment options accelerate the release of apps and services to the market, enabling our clients to gain competitive advantage.
Cloud Adoption Statistics. CIOs Survey by Avenga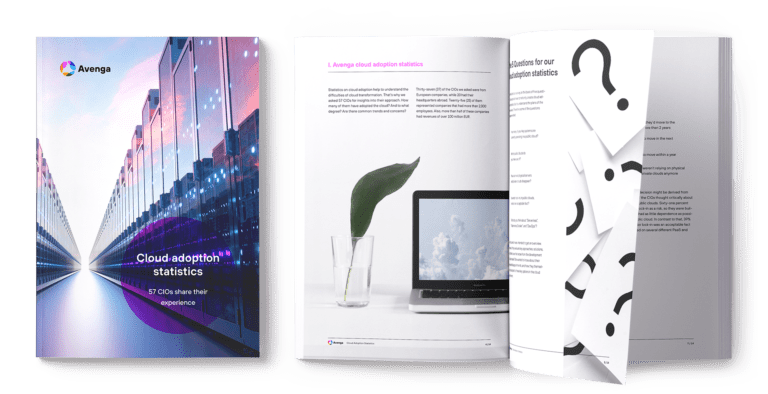 The cloud adoption statistics help in understanding the difficulties of cloud transformation. That's why we asked 57 CIOs for insights into their approach.
How many of them have adopted the cloud? 

What is the degree of cloud adoption across businesses? 

Are there common trends and concerns regarding a cloud transformation?
Get the report
What you get by moving to the cloud with Avenga
Our cloud team at Avenga is here to help you bring secure, scalable and highly available solutions to life. Having extensive expertise, in addition to following the industry's best practices, we can confidently guide your organization through its digital business decision processes, vendor and technology selections, solution designs and a cloud implementation.
We create a customized transformation plan for you so you can move forward confidently

We develop a secure, scalable, and highly elastic cloud solution for you

We help you to avoid vendor lock-in so as to ensure the system's interoperability and portability

We automate the manual and tedious processes associated with cloud operations

We empower you to innovate fast and efficiently

We ensure you are in control of your expenditures

We deliver multi-region and multi-available cloud solutions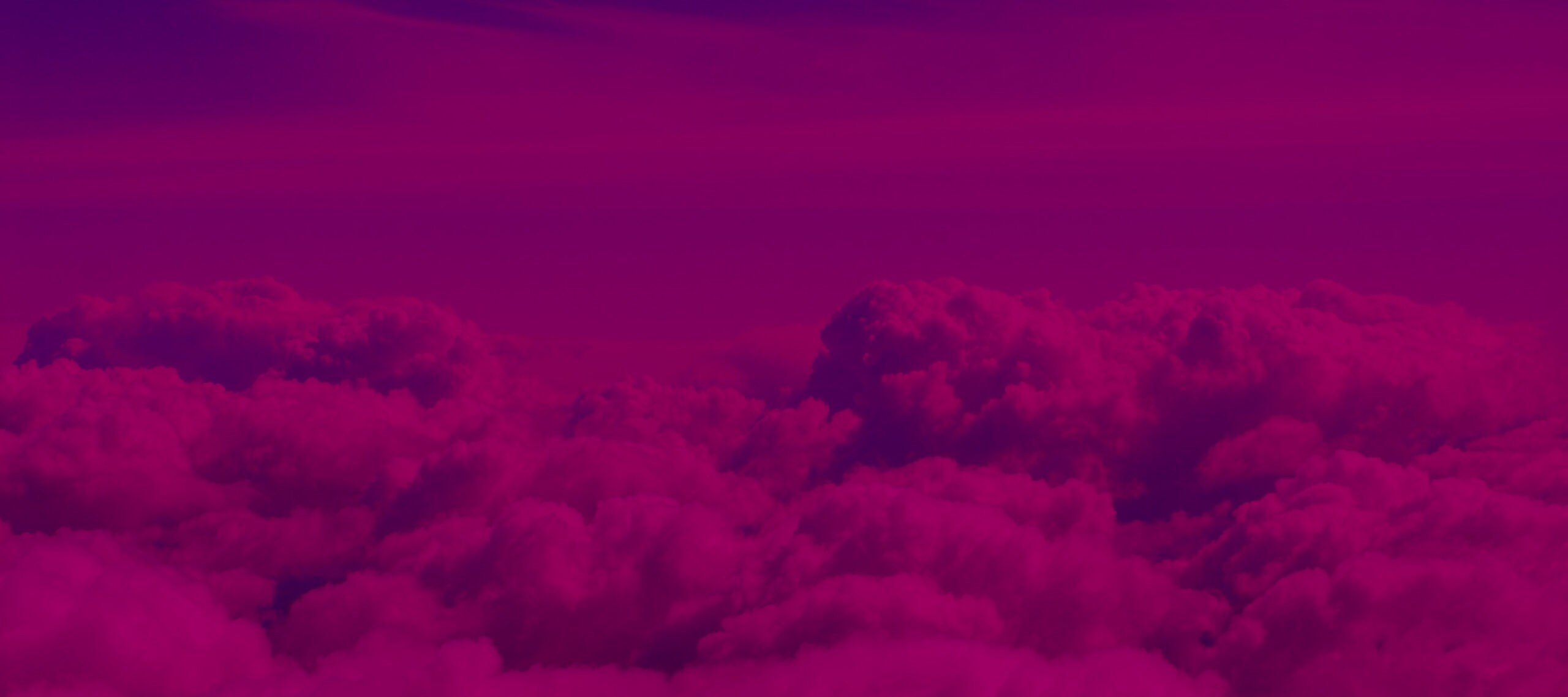 Explore Avenga Cloud Migration Services
We'll help you implement cloud migration in a way that works for you
Explore
Our portfolio of cloud services
Cloud Strategy
Get a strategic vision of your cloud journey. Our experts can help you customize your plan to move to the cloud or to expand your present cloud deployment.
What your gains are:
Discover the clear advantages of a cloud migration 

Receive a consistent vision of your future solution

Evaluate your infrastructure TCO and cloud adoption ROI

Get a documented action plan
Services:
Cloud Enablement
Migration Strategy

 
Cloud Technology consulting
Acquire industry-level solution architecture design documentation that covers software, infrastructure, processes, security, and other architectural views. Make your transition to the cloud smooth and painless, no matter if it's the modernization of a legacy solution or a switch to a new one. 
What your gains are:
Get a comprehensive assessment of your cloud investment

Get a detailed migration plan with budget estimates

Understand implementation risks, gaps, oversights and recommended solutions

Reduce cloud implementation costs

Avoid potential implementation pitfalls
Services:
Cloud Solution Architecture Design
Cloud Migration Roadmap
Cloud Architecture Assessment
Cloud TCO Analysis & Optimization
Cloud Security Assessment
Cloud Solution Engineering
Design and build custom cloud-agnostic and cloud-native solutions that are tailored to your business needs. Transform legacy systems into modern cloud applications and/or re-engineer them to enable relevant digital experiences.
What your gains are:
Access to the top-notch cloud expertise

Quality cloud-based solutions either built, integrated or migrated

Certified cloud engineering practice and hands-on experience

Established processes and quality management standards
Services:
Cloud Agnostic & Hybrid Solution Development
Cloud-Native Solution Development
Cloud Automation
Cloud Migration
Cloud Modernization
IoT Cloud Development
Accelerating the growth of new digital product for Food ordering platform

OLO | Digital Transformation

We helped to build an online enterprise-grade food ordering platform used by many of the country's largest restaurant chains and millions of users.

Explore
Custom Cloud Solution Architecture Design

a360inc | Financial Services

Avenga's partnership with a360inc resulted in an industry-level architecture documentation for a new extended case management system, including architectural views, technology trade-off, POC results, and a detailed multi-year implementation plan.

Explore

Integrated cloud solution for smart business insights

Hunt Mortgage Group | Financial Services

A secure cloud-enabled solution for business operations across the organization. It allowed automated flows, minimized costly errors, shortened the application process, and improved customer experience.

Explore
What makes Avenga a cloud partner of choice?
Avenga delivers, deploys and provides support to businesses of all levels in their cloud journey. Our dedicated cloud teams have the knowledge and resources to build flexible, scalable and secure cloud solutions. We solve your challenges with:

Unbiased guidance and cloud-agnostic solutions to avoid vendor lock-in
Certified experts in all major public clouds (AWS, Azure, Google Cloud Platform)
Cloud solutions combined with in-depth expertise in other technology areas
Technology and resource capacity to complete every step of cloud transition
Holistic view on cloud projects: from strategy to execution and maintenance
Advocate for data-driven business decisions and agile approach

Safeguard your business resilience with Avenga cloud services

Let's talk
With them, we have one of the best specialists at our side. They provide us with everything from a single source – concept, design, technology and at the same time we benefit from their many years of experience in the industry. Accordingly, they understand our individual requirements down to the last detail, which greatly promotes the progress of the project. A trusting relationship as well as an uncomplicated and fast exchange complete cooperation.
A 7-Step Guide to Creating Your Cloud Strategy

Apr 14, 2021 I Yulian Slobodyan (VP Technology Consulting at Avenga), Andriy Stashko (Solution Architect at Avenga)

A 7-step guide with recommendations on how to create and implement an effective cloud strategy and what types of analysis and evaluations can help with assessing a future cloud architecture.

Explore

Top cloud service providers: a quick comparison

May 05, 2021 I Andriy Stashko (Solution Architect at Avenga)

A comparison of cloud service providers: market share, cloud offerings, cost and price, locations, strength, weaknesses, and benefits.

Explore

Cloud Migration Types: Advantages and Disadvantages

Jul 20, 2021 I Andriy Stashko (Solution Architect at Avenga), Andrew Petryk (Engineering Director at Avenga)

Explore the different cloud migration types and their pros and cons to gain a solid head start with cloud migration. An overview of application migration approaches.

Explore
Meet any cloud challenge with Avenga
Reach out to us. Use the contact form below and we'll get back to you shortly.