How can AI services support real business needs
Automation at scale

AI software development services enable businesses to save time and money by automating and optimizing everyday processes and routine operations. Avoid mistakes, bias and human error.

Holistic insights

Use fact-based insights from AI software to predict customer preferences and offer them a better and more personalized experience.

Better decision making

Make faster business decisions based on outputs from cognitive technologies. Grow your expertise by enabling analysis that offers intelligent advice and support.

Increased productivity

Enhance business productivity and operational efficiency utilizing the latest AI development services. Avoid production loss or insufficient product quality.

Act-on engagement

Improve customer services with a data-based engagement for customers and employees. Mine vast amount of data to generate quality leads and grow your customer base. Increase revenue by identifying and maximising sales opportunities.
Our portfolio of AI services
AI strategy
Validate the feasibility of using AI software in your company and enable the transition from tactical AI decision-making to an actual business strategy
What your gains are:
Discover and identify the organization's competitive advantage powered by AI 

Assess the company's readiness for AI adoption

Get a list of strategic AI transformation goals aligned with your particular business goals 

Choose the right combination of AI technology based on the proposed solution vision

Speed up AI transformation by increasing awareness across the company
Services:
AI Transformation Strategy
AI technology consulting
Artificial intelligence consulting services will help you realize how many opportunities come from implementing AI solutions into your business, along with the analysis of available data and data's monetization potential
What your gains are:
Get your massive data set to a manageable size in order to

find the best answers to the biggest questions lying in the data.

Ensure your AI Model is accurate and explainable

Evaluate the real value of the AI opportunity

Get business and technical documentation for your future AI solution
Services:
AI Solution Design

Data Exploration

AI Model Assessment

Pilot Project
AI development & engineering
Run, maintain and scale AI and machine learning solutions from pilot to production. Adopt frameworks to leverage real-time data for developing and deploying AI applications in a real-world context and drive a positive ROI
What your gains are:
Drive smarter transformations of your workflows and technology

Turn raw unstructured data into quality useful information

Get intelligent insights to your customers and into their experiences 

Identify anomalies that stop and prevent fraud-related losses and damages

Find out what's expected to happen in the future and get competitive advantage in the market

Make data-driven business decisions based on extracted relevant features and stats
Services:
Anomaly Detection

Computer Vision

Customer Analytics

Natural Language Processing

Machine Learning Data Engineering

Machine Learning Operations

Predictive Analytics

Recommender Systems

Scientific Model Architecting

Time Series Forecasting
Our AI software development roadmap: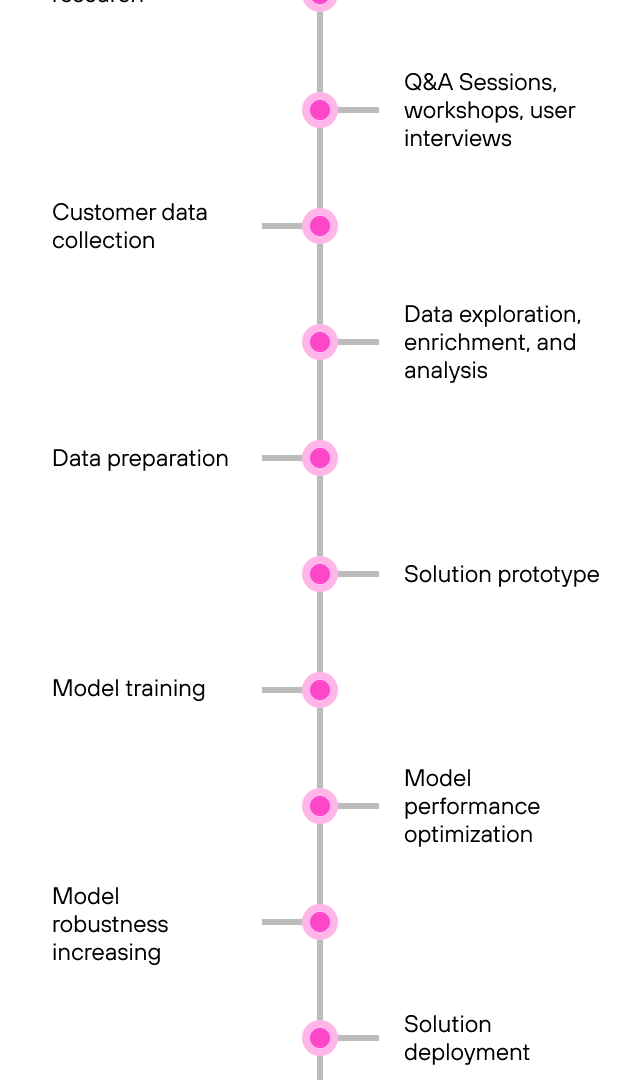 Proven competency

Our AI experts are certified and well-versed in the latest technologies, machine learning algorithms, and deep learning architectures.

Business forte

AI software development team members have the practical experience and business understanding of industries suchas tech insurance, pharma, finance, real estate; just to name a few.

Technology agnosticism

We are not biased towards any particular technology or framework, and we have experts in Python, R, PyTorch, Keras, Tensorflow, FastAI, and others.

Cross-technology applications

We are not a AI services-only consultancy, so we can offer cloud technologies, along with better design, and engineering practices, by leveraging our expertise in other technology areas.

Data at heart

With our broad expertise in the AI software development field, we design and build cloud solutions that enable the proper data governance and data warehousing.

Focus on results

We are not focused on modeling only. Every solution is well-automated and easily deployed, maintained, and retired. Infrastructure is properly set up, CI/CD processes are established, and security risk mitigated.
How Avenga delivers AI software development services to enhance your business impact
Our team can help you apply the latest AI software development tools and methodologies to create applications that deliver pragmatic business results. Our end-to-end AI development services and solutions are based on our academic and industrial research experience together with Avenga's R&D model. In our work, we apply mathematical and statistical foundations and the latest techniques including machine learning, deep learning, natural language processing and neural networks in order to augment your current capacity or develop effective artificial intelligence software solutions for strategic business opportunities.
AI strategy

AI Transformation Strategy Slide Deck

AI Use Cases Catalog & Solution Vision

AI Readiness Assessment Report

Implementation timeline and roadmap

AI technology consulting

Model Assessment Report

Solution Design documentation

Implementation efforts estimate

TCO estimate

Source code for PoCs and experiments

Pilot Project documentation

Recommendations and improvements plan

AI development & engineering

Analytical data report

Fast and optimized data processing pipelines

Deployed application: fast and optimized models that best satisfy provided constraints

Source code with the necessary documentation
UMA, an AI-powered assistant for intelligent workplace

UMA | Computer Software

Avenga's team co-developed a unique UMA platform, which is a privacy-first digital assistant for enterprises that transforms an office into a smart workplace with AI and business intelligence.

Explore
AI-Powered Fraud Detection

Trov | Insurance

Custom solution for Insurtech that automatically identifies fraudulent activities and prevents fraud-related losses and damages by means of Artificial Intelligence and statistical techniques.

Explore

NLP for informed business decisions

Global consulting company | Financial Services

Our solution helped to automatically search through the raw unstructured text quickly, process it, and extract the actual data for informed business decisions.

Explore

Intelligent vehicle counter

Private company | Technology

Our solution consisted of detecting and classifying a vehicle on a video stream on multiple categories; tracking the vehicle through each frame and eventually counting it using a deep learning approach.

Explore
With them, we have one of the best specialists at our side. They provide us with everything from a single source – concept, design, technology and at the same time we benefit from their many years of experience in the industry. Accordingly, they understand our individual requirements down to the last detail, which greatly promotes the progress of the project. A trusting relationship as well as an uncomplicated and fast exchange complete cooperation.
AI software development is a chance, not a challenge
Reach out to us. Use the contact form below and we'll get back to you shortly.